For millions of people worldwide who suffer from sleep apnoea, CPAP machines and the therapy they provide have become a life changing part of their sleep routine, allowing them to have restful sleep and better health. Therefore, and particularly given the importance of consistent CPAP use, it is natural for CPAP users to want to have their CPAP machine with them when they travel. Perhaps you are a relatively new CPAP user who wishes to know how to go about travelling with your machine, or you could be a long-time user of a CPAP machine but would like to learn about your travel options. Regardless of your reasons, your search can now finally come to an end because this is the article for you!
In this comprehensive guide, we will delve into essential tips and considerations to make your travel with a CPAP machine smooth and stress-free, allowing you to embark on your journeys with confidence and comfort.
What is the difference between a full-sized and travel-sized CPAP machine?
The Benefits of a Portable CPAP Machine
The Best Travel CPAP Machines Available in 2023
What is the best Travel CPAP Machine?
Should I get a Portable CPAP Machine?
A CPAP travel machine product can be a great addition to your sleep therapy routine, even if you already have a full-sized machine. When it comes to shopping for the best mobile CPAP machines and CPAP machine travel, Australia has some of the best options available.
What is the difference between a full-sized and travel-sized CPAP machine?
Travel-sized CPAP machines are more compact and lightweight than full-sized CPAP machines, making them ideal for travel. It is not as comfortable to use a travel CPAP machine as opposed to a regular CPAP machine full-time, as the design of a travel CPAP machine is focused on portability. However, travel CPAP machines are perfectly functional and can be used effectively to treat sleep apnoea.
Many full-size CPAP machines come with integrated humidifiers to add moisture to the therapy air. Humidification can enhance comfort during CPAP therapy, especially for users who experience dryness or congestion. Travel machines don't have humidifiers (although options exist to compensate for this) but the humidifier on a bedside machine, aside from being large, messy and cumbersome to travel with, uses a lot of power so you would likely have to disable it anyway while travelling.
Travel-sized machines are specifically tailored for users who need their CPAP therapy during trips, vacations, or outdoor adventures whereas regular CPAP machines are designed to be kept and used at home. In our experience, most people purchase a travel-sized CPAP machine as well as a full-sized CPAP machine to use at home.
To learn more about the experience of travelling with a regular CPAP machine, click here to see our article on Travelling with a CPAP Machine.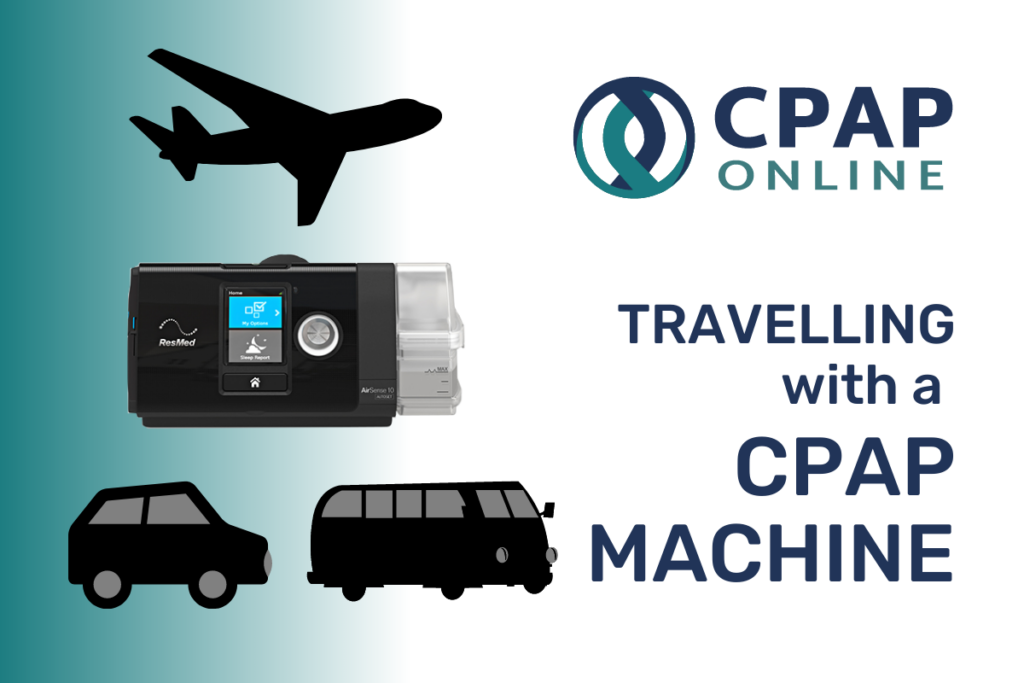 The Benefits of a Portable CPAP Machine
If you ever find yourself spending a night away from home, a travel sized CPAP machine will definitely come in handy as these compact and portable devices are designed specifically with the travel needs of CPAP users in mind, making it as convenient as possible to continue your sleep apnoea therapy away from home. With everything from aeroplane usage to overnight battery considered in the design of the best travel CPAP machines, Australian mobile CPAP products are outstanding.
Here are a few of the main benefits that you may find in many travel sized machines:
Overnight battery: Most portable CPAP machines have the option to be battery powered, with some lasting upwards of 13 hours. This means that you can always continue your CPAP therapy, wherever you are. Medistrom even offers a solar-panel charger for their CPAP batteries. Furthermore, many travel-sized CPAP machines are equipped with versatile power options, being able to function on both AC and DC power (like car or airplane power outlets), giving you flexibility in various travel scenarios.
Compact and lightweight: Travel CPAP machines are significantly small, lightweight devices when compared to the usual CPAP device, meaning that it is light and easy to pack and carry around.
Flexibility: Travel-sized CPAP machines are often approved for air travel, which means you can use them on airplanes without any issues. Since they comply with airline regulations and fit within the size limits for medical devices, you won't face challenges bringing them on board. Additionally, these machines usually come with a travel-friendly carrying case that helps protect and organise all the components during transit. You will be able to continue your sleep apnoea therapy no matter what the situation; whether you are on a work trip or holiday, camping or on a flight.
Fewer components: A smaller amount of parts means that you won't have to worry about forgetting or losing anything. Not to mention, you won't have to waste time setting your CPAP machine up.
Usability: With many mobile machines having convenient USB ports, efficient app and bluetooth connectivity, and modern features such as waterless humidifier systems, CPAP therapy is quick and easy while you are on the go.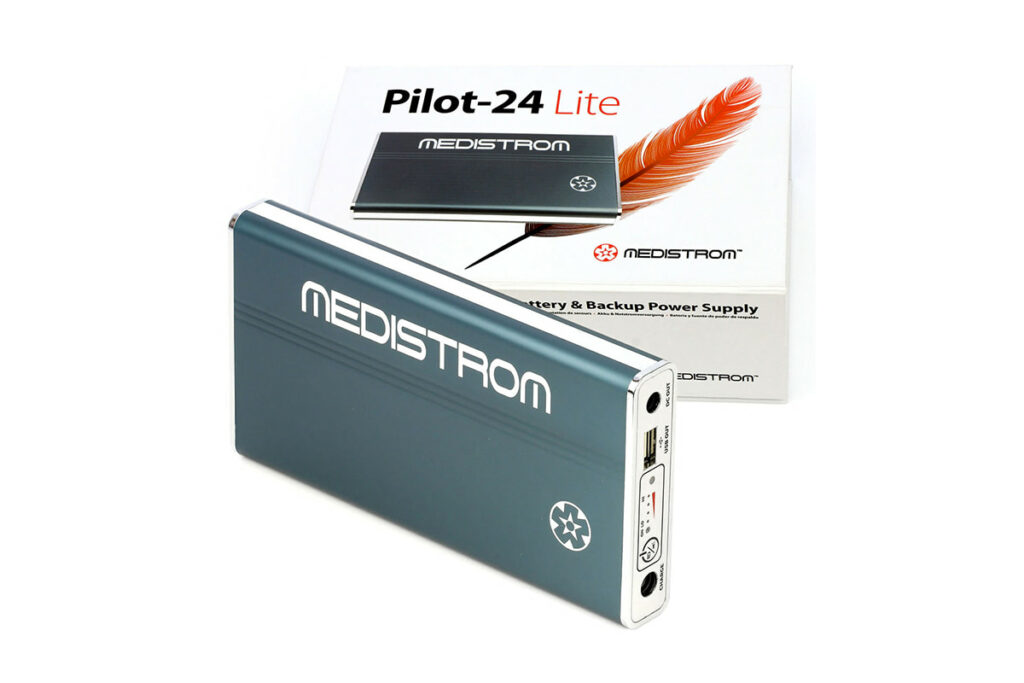 Medistrom Portable CPAP Battery Pack (12v or 24v Model)
Portable CPAP Battery For Travel
The Pilot-24 Lite and Pilot-12 Lite are a revolutionary CPAP & BiLevel power solution combining an ultra-portable travel battery with a backup power supply so you can be sure to have power at home or on the road whenever you need it. The Medistrom battery should provide 1-2 nights of power for your CPAP. As an added bonus the battery has a built in…
Investing in a travel-sized CPAP machine can significantly enhance the travel experience for individuals who rely on CPAP therapy. The portability, flexibility, versatile power options, and user-friendly features make these devices a reliable companion for CPAP users on the go. Whether you're embarking on a business trip, vacation, or outdoor adventure, a travel-sized CPAP machine ensures you can maintain your sleep therapy and enjoy restful nights wherever your travels take you.
The Best Travel CPAP Machines Available
With so many products out there, deciding on the travel CPAP machine for you can be confusing.
To help with your choice, here are our picks for some of the best machines available.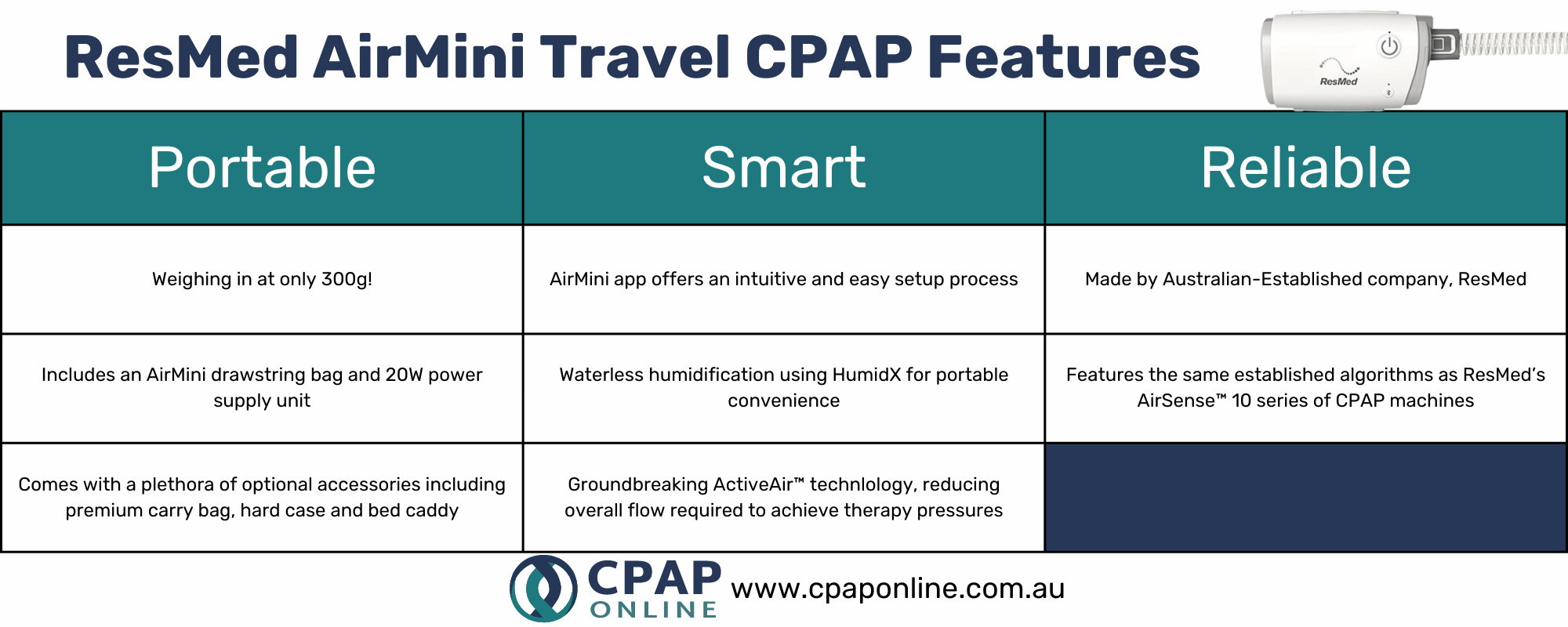 ResMed AirMini
ResMed's smallest CPAP machine product packs a surprising amount of features into such a tiny product, the most interesting of which is ResMed's HumidX waterless humidification system. This allows you to leave the distilled water at home, taking all of the hassle out of CPAP humidification.
In addition to waterless humidification, the product uses proven ResMed device algorithms, and has an intuitive smartphone app. Not to mention, if you are asking yourself "What is the smallest CPAP machine on the market?", the AirMini is the smallest CPAP device ever made. The ResMed AirMini boasts a remarkably small and lightweight design, weighing only 300 grams and easily fitting into the palm of the writer's hand, making it an excellent choice for frequent travellers. For a portable CPAP system, the ResMed AirMini does a great job.
Whilst it does not have cellular connectivity, the AirMini is designed to seamlessly integrate with the AirMini smartphone app through Bluetooth connectivity.
Things we liked:
Extremely small and portable
Includes an AirMini drawstring bag and 20W power supply unit
AirMini app offers an intuitive and easy setup process
Waterless humidification for portable convenience
Optional accessories – premium carry bag, hard case and bed caddy
Things we disliked:
Uses a proprietary connector that only works with ResMed's AirFit F30, AirFit 20 series of masks, AirTouch F20 and AirFit P10 for AirMini
If you are a traveller suffering from sleep apnoea, we could not recommend the ResMed AirMini more as the ultimate travel companion for your CPAP needs. It is a game-changer that will keep you well-rested and ready to enjoy every adventure that your life takes you on! Not to mention, CPAP Online Australia offers this machine in a ResMed AirMini Starter Kit, which includes a free compatible mask of your choice.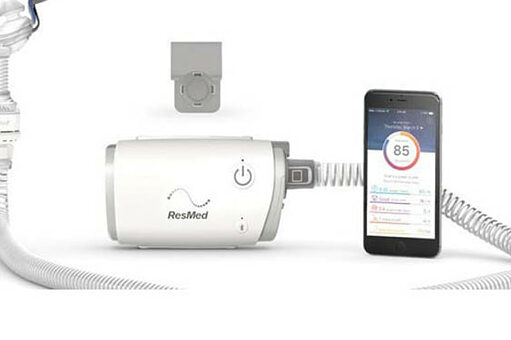 ResMed AirMini Automatic CPAP Bedside Starter Kit (Mask Included)
ResMed designed the all New Advanced AirMini AutoSet Travel CPAP Machine with all the features that ResMed is known for. The AirMini features the same proven therapy modes used in the AirSense 10.
The AirMini Travel Machine is the World's Smallest CPAP Machine, weighing less than a pound and fitting in the palm of your hand. Traveling has never been easier, no more dragging …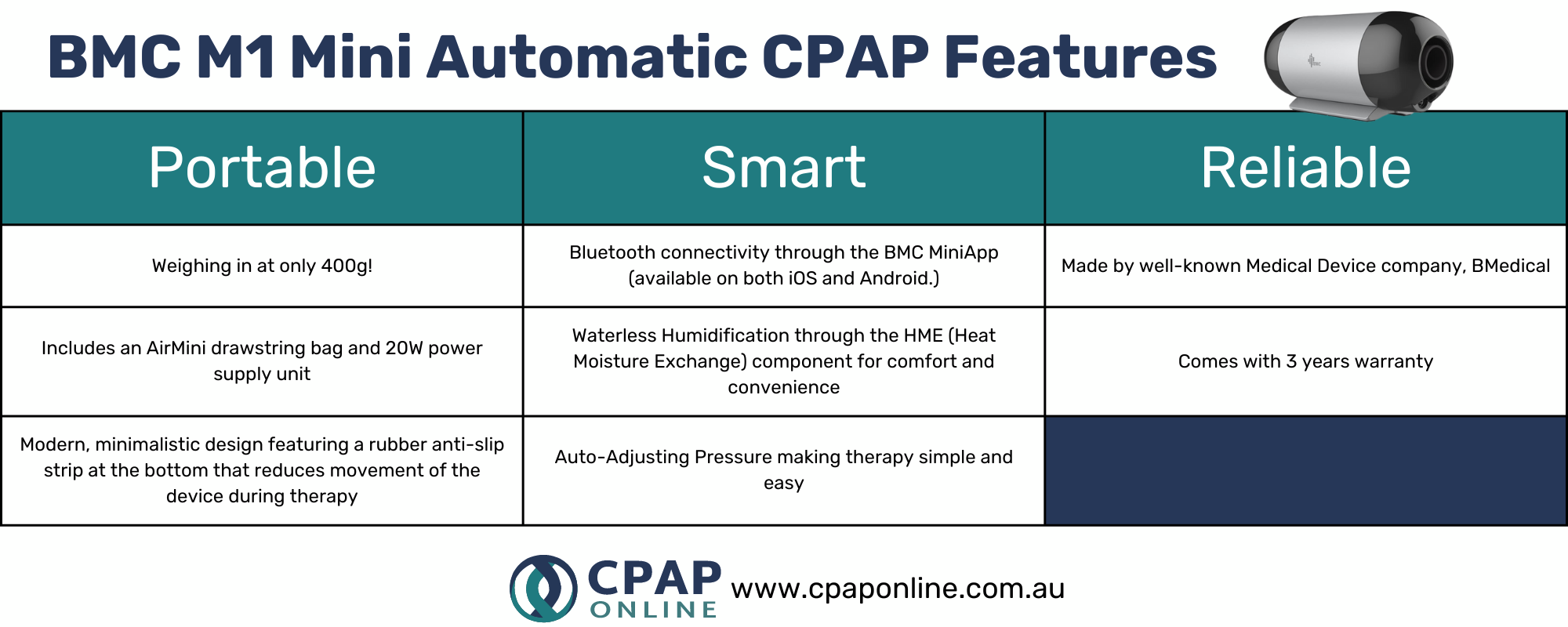 BMC M1 Mini
The BMC M1 Mini is an Automatic Pressure Adjusting Travel CPAP device designed for the treatment of snoring and Obstructive Sleep Apnea and Hypopnea Syndrome (OSAHS). This travel CPAP device is BMC's smallest and most compact travel device – so tiny and lightweight it can easily fit in the palm of your hand.
Its compact design and lightweight construction make it the perfect companion for those who prioritise portability, without compromising on performance. The device fits snugly into carry-on luggage and is incredibly easy to set up, allowing you to enjoy uninterrupted sleep therapy during your travels.
Things we liked:
Ultra-light & Ultra-Portable – Weighing only 400 grams!
Auto-Adjusting Pressure making therapy simple and easy
Bluetooth connectivity through the BMC MiniApp (available on both iOS and Android.)
Waterless Humidification through the HME (Heat Moisture Exchange) component for comfort and convenience.
Modern, minimalistic design featuring a rubber anti-slip strip at the bottom that reduces movement of the device during therapy.
Things we disliked:
Quite large and heavy compared to the other travel CPAP machines on this list
The BMC M1 Mini is a game-changer for frequent travellers who rely on CPAP therapy. Its compactness, quiet operation, integrated humidification, and user-friendly interface make it a top-notch travel companion and we highly recommend it as a solution for your CPAP needs on the go.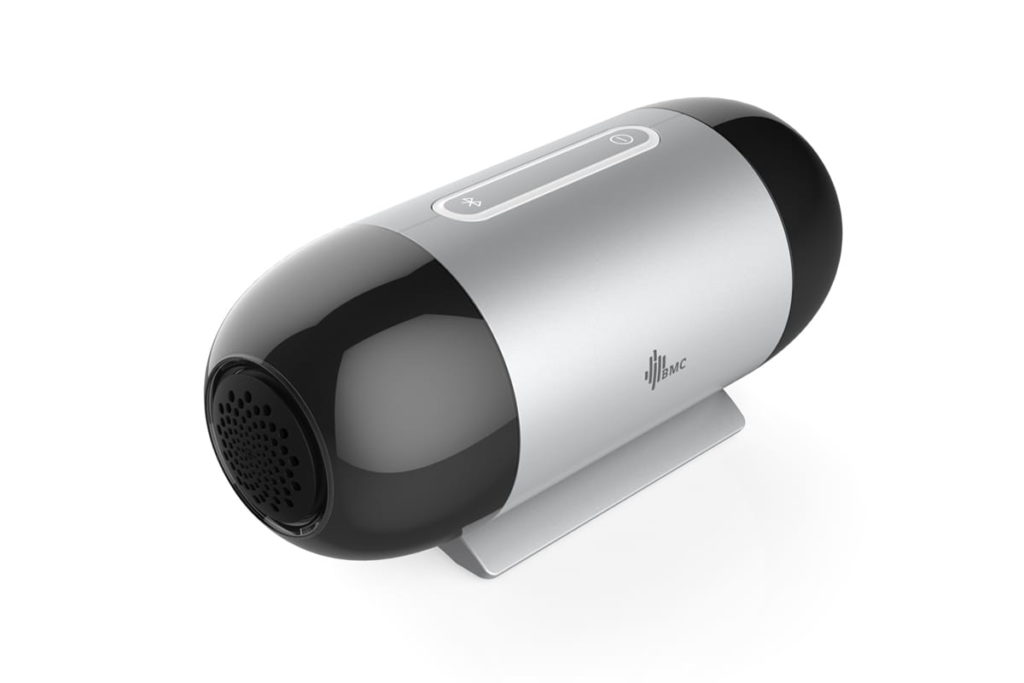 BMC M1 Mini Automatic Travel CPAP Machine
Discount limited time only: October Holiday Special!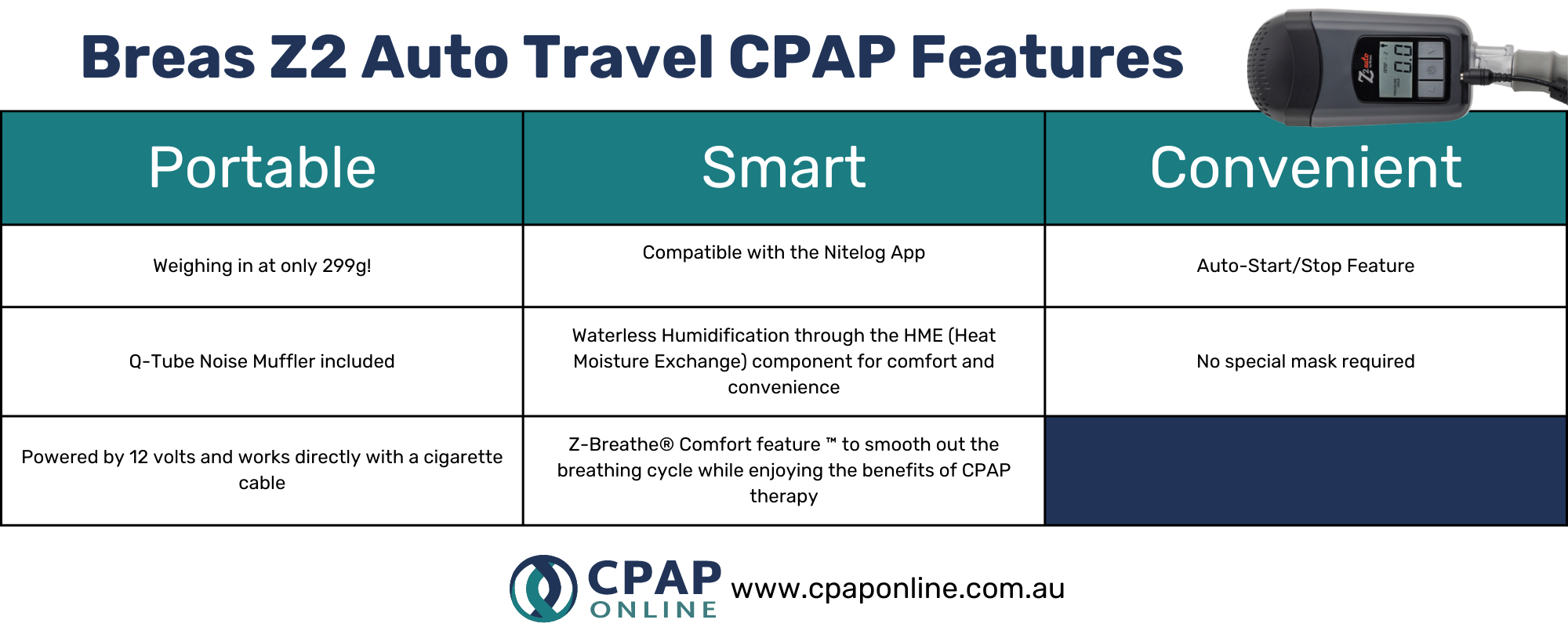 Breas Z2 Auto
The Breas Z2 Travel CPAP Machine is a portable and innovative solution for individuals who require CPAP therapy for sleep apnoea. Manufactured by Breas Medical, this compact device is designed to deliver high-quality performance while being travel-friendly, making it an attractive choice for CPAP users on the go.
Its user-friendly interface, versatile power options, and smart data management capabilities make it an attractive choice for frequent travellers, outdoor enthusiasts, or anyone seeking a reliable CPAP machine that is easy to use and maintain.
Things we liked:
Waterless Humidification through the HME (Heat Moisture Exchange) component for comfort and convenience
Q-Tube Noise Muffler works to reduce mask noise
Weighs only 299 grams
Compatible with any mask
Compatible with the Nitelog App
Is powered by 12 volts and works directly with a cigarette cable
Things we disliked:

Only slightly smaller than the BMC M1 Mini
Overall, the Breas Z2 Travel CPAP Machine has earned its place as a top-notch choice for those in need of portable CPAP therapy, offering a highly commendable solution for CPAP users seeking a compact, lightweight, and travel-friendly device.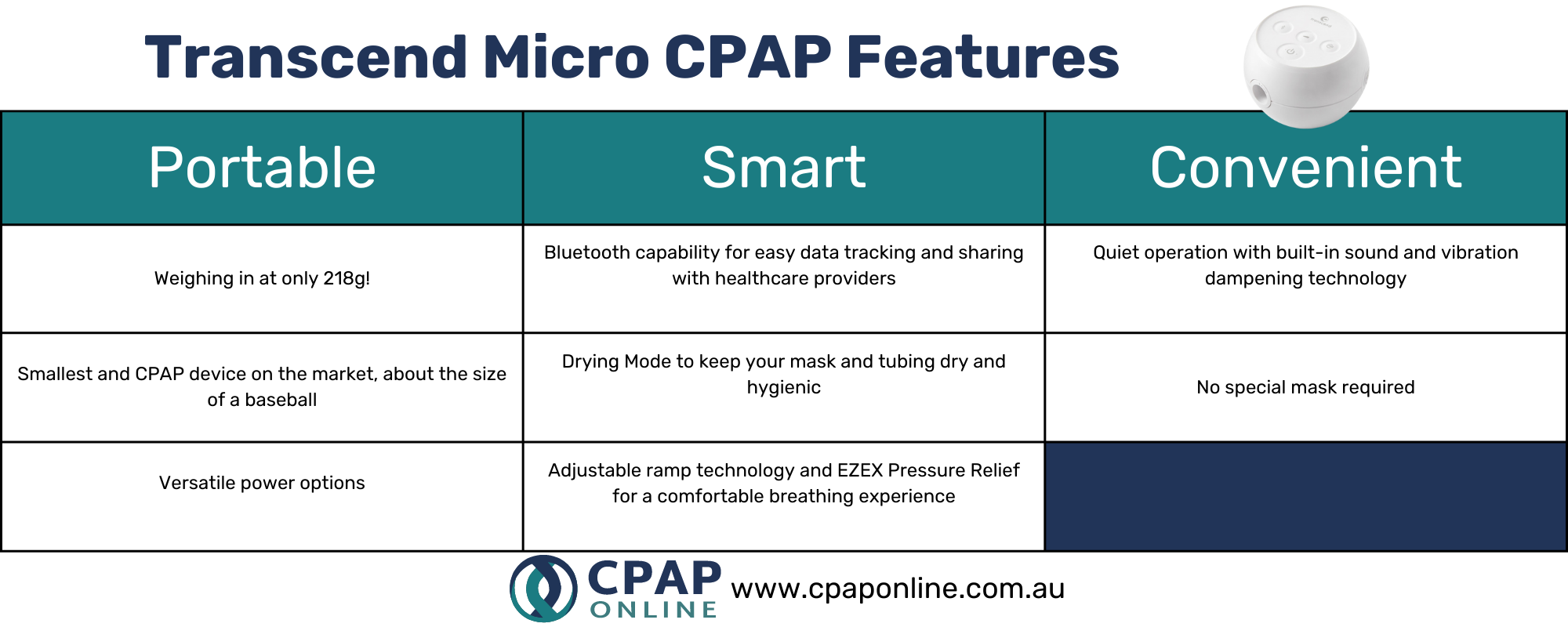 Transcend Micro:
If you're an avid traveller or someone who values portability and convenience in your CPAP therapy, the Transcend Micro™ is here to meet your needs. This revolutionary device is the smallest and lightest CPAP machine available, weighing just 218 grams and measuring under 10cm across. Its compact design makes it perfect for those tight spaces during your travels.
The Transcend Micro offers a range of benefits, making it an appealing option for CPAP users on the go. The device boasts quiet operation, thanks to its air-bearing blower technology and built-in sound and vibration dampening, ensuring a restful night's sleep for both the user and their bed partner. The machine's compatibility with all CPAP masks, including third-party options, provides flexibility and potentially reduces overall costs. It is suitable for air travel, and can be powered using various options.
Things we liked:

Smallest and lightest CPAP device on the market, weighing just 218 grams and measuring under 4 inches
Compatible with all CPAP masks
Quiet operation with built-in sound and vibration dampening technology
Adjustable ramp technology and EZEX Pressure Relief for a comfortable breathing experience
Drying Mode to keep your mask and tubing dry and hygienic
Bluetooth capability for easy data tracking and sharing with healthcare providers
Versatile power options
Things we disliked:
The smaller size may result in slightly higher noise levels compared to larger CPAP machines.
What is the Best Travel CPAP Machine?
Ultimately, travelling with a full-sized device can be impractical and inconvenient, although not impossible when the right tools are available to you. Having to deal with things like machine size and weight, as well as distilled water humidification and a lack of a built in battery will get old quickly; especially if you travel a lot. The best option will come down to your personal needs and preferences.
If you are travelling with your CPAP machine, don't forget to have a solid travel plan; this will make sure that you are prepared for any possible situation. Always bring your travel case, the correct power adaptor, and a compatible battery if necessary.