Don't go wrong with our comprehensive CPAP machine buying guide.
This article covers what to look for in a CPAP machine, how to choose a CPAP mask, some of the best CPAP machines, and other things to keep in mind.
When it comes to buying a CPAP (continuous positive airway pressure) machine, the process can be confusing and the options available are extensive. If you are experiencing symptoms of obstructive sleep apnea, there are numerous considerations that should be made when deciding which CPAP device to go with.
You will hear about things like automatic and continuous positive airway pressure, nasal pillows, fixed and auto variable pressures, and auto-ramp pressure features – without having a basic understanding of terms like these, deciding on a CPAP machine will involve a lot of guesswork. Especially when there are so many options out there! From budget machines to expensive, feature packed devices and travel machines, there is a lot that CPAP machines have to offer.
Whether it is the ResMed AirSense 10, a Philips Respironics DreamStation, or a Fisher and Paykel SleepStyle, the best CPAP machines come down to your personal needs. For the best CPAP machine and sleep apnea therapy experience, use this comprehensive overview to find a machine that best suits your sleep apnoea treatment needs.
The Features You're Looking For
This section will provide a walkthrough of the main features found in a CPAP machine, and will help you to work out what you require for the best sleep apnea therapy experience. The main two features here will be the ventilator type, and the mask type, however there are numerous other features that will also be covered.
Choosing a Ventilator Type
CPAP machines come with two common ventilator types; fixed pressure and auto variable pressure. Either option may be suitable for you, depending on your personal needs.
Fixed Pressure Ventilators
Fixed pressure machines were the first CPAP machines to be available, delivering airflow at a constant rate. Offering a more simple and economical solution to sleep apnoea, most current fixed pressure machines have a multitude of extra features also found in auto variable models.
Auto Variable Pressure Ventilators
On the other hand, auto variable machines are designed to automatically monitor your airflow needs throughout the night, altering the air pressure output in response. This ensures that when using a CPAP machine you are receiving the lowest air pressure necessary, in turn increasing comfort and effectiveness.
Choosing the Right Mask
One of the most important decisions to make when setting up CPAP therapy is the type of mask chosen. The main options when it comes to masks are CPAP full face masks, nasal masks, and nasal pillow masks.
Full Face Masks
This mask type covers the mouth and nose, and is suitable for people that require higher pressure or breathe through their mouth. They are also ideal for people who sleep on their back, and those who have frequent congestions and nasal obstructions.
Nasal Masks
Nasal CPAP masks cover only the nose, delivering a natural, indirect airflow that is comfortable with higher pressure airflows. They are considered to be a middle ground between the bulky full face mask and the smaller, more manageable pillow mask. A significant downside to nasal masks is that they are not effective for people who breathe through their mouth during sleep, however a chin strap can be used to fix this.
Pillow Masks
CPAP pillow masks rest at the entrance of your nose, and are the most lightweight mask option available. Also referred to as nasal pillow masks, they are more suitable for people needing lower pressure settings, and also work well for people who move a lot during sleep and those with facial hair.
Other Features to Look Out For
With the main components out of the way, it is important to consider some of the extra features that may be included with particular CPAP machine models.
The inclusion of a humidifier is useful for the management of dry irritated airways, and is also suitable throughout winter and in colder areas.
In addition to this, a heated humidifier or hose can also significantly help reduce discomfort during use.
Breathing and sleep onset detection can dramatically simplify CPAP machine use, and make falling asleep more comfortable.
As sleep apnoea differs in women, many CPAP machine manufacturers offer gender specific CPAP machines.
For those who travel frequently, a smaller, lightweight travel machine may be useful. These often come with portable batteries and multiple plug-in adapters.
The noise emitted by CPAP machines is usually extremely quiet, however can vary depending on the machine.
Bluetooth, wifi and cellular connectivity is an important feature that can be useful for updating and monitoring purposes.
If you are asking the question "how long does a CPAP machine last?", another important factor will be warranty coverage. This differentiates across brands, and is an important consideration to make.
Buying Options
Where to buy
When purchasing a CPAP machine, it is recommended to go through a reputable and experienced clinic. This ensures that you are buying effective, top of the line equipment, and allows for expert recommendation and guidance. Knowledgeable staff can help you choose the most appropriate CPAP machine, mask and accessories, and many clinics also offer take home trials and other useful sleep apnoea tests.
It is also a good idea to buy locally, as effective CPAP therapy may require multiple visits and ongoing consultation. Many clinics offer before and after customer service, and some manufacturers offer support programs to CPAP users as well.
Manufacturers
In regard to manufacturers, there are multiple options available within the Australian market. The two most common CPAP machine brands are ResMed and Philips Respironics, whilst Fisher & Paykel is another popular brand also offering CPAP products. Each brand has unique products and features, and these three manufacturers also offer masks and tubes.
Further Considerations/Things to Look For
Pricing is an important consideration. Depending on the store, this can take into account the range of products, as well as the quality of service provided.
It is recommended to choose a CPAP clinic that offers rental/free trial services, as well as sleep apnoea tests and personalised expert advice.
Many CPAP clinics offer free shipping on their products.
Accessories
For additional support, there is a multitude of accessories available to help with CPAP equipment maintenance, sleeping, and convenience. These include:
Chin straps
Nasal pads
Mask wipes
Portable batteries
Earbuds/white noise machines
Mouth-guards
Travel cases
If you are in the market for a new CPAP machine, be sure to consider these accessories – they can completely change your sleep apnea therapy experience!
Recommended CPAP Machines
If you are looking to buy a CPAP machine, CPAP Online Australia recommend a number of high quality, tried and tested machines on the market. The best CPAP machine 2020 has to offer comes down to a few options – you may have heard of models such as the Philips Respironics DreamStation Auto or DreamStation Go, or maybe the ResMed AirSense 10 – all extremely successful and wildly popular CPAP machines . Our sleep experts make recommendations on the best CPAP machines by taking into consideration a wide range of factors, including aforementioned features and often forgotten features such as user friendly operation and multiple year warranty.
General Recommendation
In terms of a general recommendation, we have to go with the ResMed AirSense 10 AutoSet – this offering from ResMed is by far one of the most popular and best CPAP machines on the market, with a massive range of features, consistent and reliable operation, and fantastic ease of use. Notable features of the ResMed AirSense 10 include sleep onset detection, consistent heated humidification, user friendly operation, and dedicated machines that utilise an algorithm dedicated to either male or female-specific obstructive sleep apnea characteristics.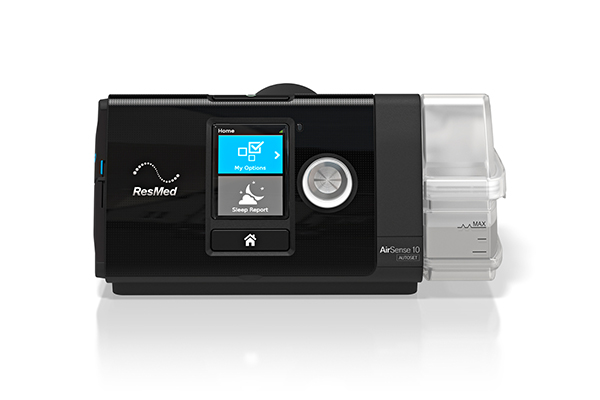 Budget Recommendation:
On the other hand, if you are looking for a cheap CPAP machine option, there are a number of fantastic brands available that make machines for people on a budget. You may not be interested in all the fancy bells and whistles of a feature packed machine – in this case, a machine we recommend you have a look at is the DeVilbiss SleepCube StandardPlus! Even with the humidifier included, this machine beats a huge range of competitor models on price, and comes packed with features usually found on high end models. As a fixed pressure device, you get a heated humidifier, a delay pressure ramp, and one of the lowest sound emissions available. If you are interested in alternatives to this budget option, check out the Transcend range of CPAP machines.
Travel CPAP Recommendation
If you are looking for a more travel friendly machine, our recommendations here are the Philips Respironics DreamStation Go, ResMed AirMini, or if you would like a more budget friendly option (maybe as a second machine), the Z1 Auto CPAP machine. As Philips Respironics' lightest machine, the DreamStation Go is compact and weighs less than 1kg. It also has a 13 hour battery, ensuring that you can continue your sleep apnea therapy even in locations off the power grid. In terms of portable CPAP devices, the DreamStation Go model is a great option and includes essential features that travellers will be looking for. Next, the ResMed AirMini is the smallest CPAP device in the world – so if size is an important factor for you, then you should definitely check out this machine. Also included here is waterless humidification – a game changing feature when it comes to travelling with a CPAP machine. Finally, the budget friendly Z1 Auto CPAP machine is a great option, with a convenient list of optional add-ons such as an optional integrated battery or muffler system – definitely do not overlook this machine!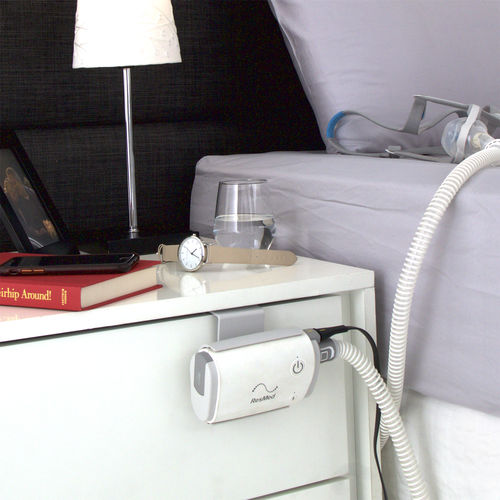 Quietest CPAP Machine Recommendation
Finally, if you are wondering "Which is the quietest CPAP machine?", we have a recommendation for this too! The DreamStation Auto CPAP machine, in addition to being an all round fantastic, feature packed option, has been consistently rated as one of the quietest CPAP machines on the market. With tested sound levels at a minimum of 25.8dBA, even with increases in air pressure, the DreamStation Auto CPAP machine is definitely one of the best CPAP options if noise levels are in your list of concerns.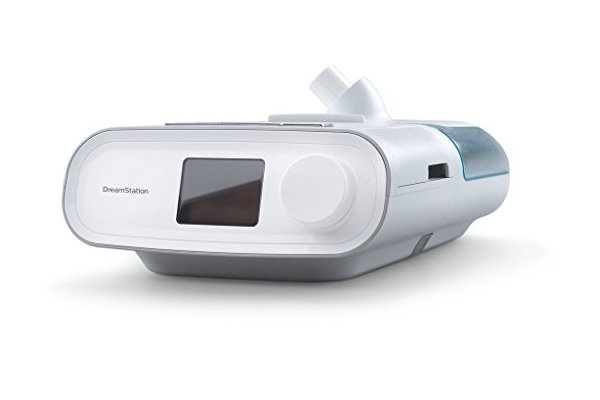 If you would like to learn more about the best CPAP machines available, or gain a more in depth understanding of a particular machine, check out our reviews page.
What Next?
With all of this information in mind, get in contact with a CPAP clinic to figure out the best approach moving forward. Ultimately, if you are buying a CPAP machine, a consultation with experts in sleep health problems is the most effective way to ensure that your sleep apnoea can be treated effectively and easily.
At CPAP Online Australia, we offer unrivalled CPAP assistance and support, with years of experience behind us. We take pride in maintaining ongoing relationships with our customers, and offer effective and convenient online and take home sleep tests to ensure we are meeting your needs. Not to mention, we stock a great range of the best CPAP machines, with the ResMed AirSense 10, Philips Respironics DreamStation Auto and DreamStation Go, and more included.
Hopefully, this article has helped you to decide on the best CPAP machine for you.
To find out more, check out the links below.