Welcome to the ultimate CPAP Machine Buyers' Guide.
If you are looking for the best CPAP machine for you to improve your sleep and overcome sleep apnea with, you have come to the right place! We understand that a CPAP machine is a big purchase, which is why we offer a variety of payment options to assist you with getting the therapy you need as soon as possible. When you are looking to buy a product in a new category, you are at the mercy of a company's marketing as you may not be as well-informed on the machines they are selling as you would like to be. This article will assist you to push through all of the noise and figure out exactly which machine is the best for you.
Section 1 – How to choose a CPAP machine:
First, we will discuss CPAP machines and what features are important so that you can have the skills to narrow down which CPAP machine is best for your needs. Then, we will also discuss some optional comfort and data transmission features that you may wish to consider.
Section 2 – Our recommendations:
Finally, we will provide you with our recommendation for which machine may best suit your needs based on some key categories including our picks for different budgets, our choice of the quietest CPAP machine in 2023, and, of course, our all-rounder selection for the best CPAP machine in 2023 and a quick run through of the pros and cons of these machines.
A Beginner's Guide to CPAP: How to choose a CPAP machine.
What is a CPAP machine?
A CPAP machine may seem like a mysterious and complicated device with many parts, but in reality, the way it functions is quite simple to understand. A CPAP machine, at its core, is really just an air pump which is controlled by software.
CPAP stands for Continuous Positive Airway Pressure and it is a game-changer for people who are dealing with sleep apnoea. A CPAP machine, through a mask worn over the nose or the nose and mouth, delivers a constant flow of air to keep the airway open and prevent breathing interruptions during the night.
You may have the image in your mind of CPAP machines being large, heavy, astronaut-sounding devices with tubes, hoses, tanks, wires and masks and it may be overwhelming to wrap your head around the many different brands and their different lines of CPAP machines. Many people are concerned that purchasing a CPAP machine will mean learning to work a complex machine and dealing with constant noise, maintenance and discomfort during the night, but this could not be more untrue.
In 2023, the most popular sleep apnoea machines are generally only around 1.5kg in weight and do not get louder than a quiet whisper while in operation. For those concerned about traveling with a CPAP machine, many newer models are designed to be compact and portable, making it easier for users to maintain their therapy routine even when away from home. Some CPAP machines even come with battery options, ensuring uninterrupted therapy during power outages or camping trips
Moreover, modern CPAP machines are designed with the user-experience in mind. They often come with intuitive interfaces and straightforward controls, making them easy to operate, even for those who may not be especially tech-savvy. The setup process is equally quite simple, with it usually only being a matter of minutes before you are ready to use your machine.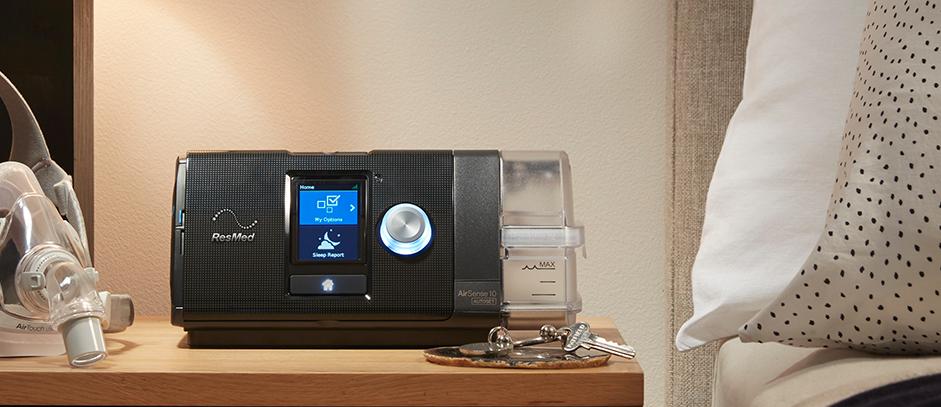 What are Important Features on a CPAP machine?
Different CPAP machines will have different attributes. These include but are not limited to:
Mode (Fixed or Auto)
Size/Weight/Portability
Pressure Ramp
Acoustics
Ease of Maintenance/Cleaning
Access to Data
Cost
Warranty
Some machines are designed especially for use by women, such as the ResMed AirSense 10 AutoSet for Her which has a special algorithm designed for women's breathing. This is because women generally have a lower lung capacity than men and can be more sensitive to swift and overt pressure increases in regular algorithms. Other machines, like the ResMed AirSense 11 AutoSet feature the "For Her" algorithm without the need for a separate model.
Make sure you know which of these features are important to you before proceeding with a purchase.
What are Nice to Have Features on a CPAP machine?
There are a variety of comfort features which also may be available on some CPAP models, these include:
Data-tracking features
Expiratory relief
Sleep sense
Mobile app and software
Integrated heating tubes
Humidifier
Depending on your personal preferences, you may find other features to be of value to you and nice to have. This is a good consideration when purchasing a machine.


What is the difference between Fixed-Level CPAP machines and Automatic CPAP (APAP) machines?
Fixed-level CPAP machines deliver a constant pressure while in use and this pressure does not change during the night unless someone manually adjusts the pressure level setting on the machine. AutoCPAP or APAP machines monitor your breathing and use an algorithm to determine whether to increase or decrease the pressure level throughout the night within a set pressure range. In most of the major brands, Fixed and Automatic machines are otherwise the same in terms of features.
In several parts of this article, we will refer to an Automatic CPAP machine's algorithm. The importance of the algorithm varies depending on the severity of the blockage causing your sleep apnoea and and although some brands do this better than others, not being able to afford the cream of the crop should not be a dealbreaker. What is most important is that you purchase a machine that you can afford, as any of these machines will treat mild to moderate sleep apnoea just fine.
This article does not cover BiPAP machines.
Are CPAP machines expensive?
It is very important when looking to purchase any new product, including CPAP machines, that you are aware of how much it costs and whether or not it is good value for your money. CPAP machines are available at a range of different prices to suit people with various budgets and it is important that you consider your budget and which features are important to you before committing to a purchase.
The Löwenstein Prisma20A Automatic CPAP, for instance, is considered by many to be the Rolls Royce of CPAP machines with its excellent feature-set and with an algorithm which provides extremely precise control1 over the required pressure to overcome an apnoea or a hypopnea event. However, it is quite valuable, especially when compared to other machines such as the popular ResMed AirSense 11 Autoset machine.
A general outline of the value proposition of various machines is as follows:
High budget CPAP machines: Löwenstein
We consider these to be the cream of the crop of CPAP machines but they tend to be the most expensive and require the most setup.
Standard budget CPAP machines: ResMed and Fisher & Paykel
These machines are designed to "just work". They have an excellent, straightforward user experience. ResMed machines are extremely popular and they have a large share of the market. This is for good reason as they make excellent machines! Fisher and Paykel's SleepStyle Auto is also very popular and is especially good for those who are not technologically savvy as they have physical buttons, which is particularly helpful for those suffering from vision impairment, arthritis or other ailments for which its control scheme is useful.
Low budget CPAP machines: BMC, Yuwell and Sefam
Lower budget CPAP machines like the BMC Luna G3, Sefam S.Box and Yuwell YH-450 generally still have all of the features required to treat your sleep apnoea. Whilst they give the user the same features as more valuable machines, the algorithm and effectiveness of some of these features are not at par with their pricier counterparts. It is important to remember that if cost is a major concern to you, these machines will more than likely do the job and you should not dismiss CPAP machines just because you cannot afford a higher budget one.
How long does a CPAP machine last?
CPAP machines are generally supposed to last around 5 years and this should ideally be the length of the warranty on a machine you choose to buy. Be sure to check the warranty offered with any machine you are interested in purchasing and also learn as much as possible about what options are available to you for maintenance of your machine after its warranty expires.
CPAP machine models are often updated every 5-7 years and it is crucial that you be aware of these product cycles prior to making your purchase. For example, the ResMed AirSense 10 AutoSet is superseded by the ResMed AirSense 11 AutoSet. It is generally the best practice to purchase the latest model in a brand's respective CPAP machine line as this will have the latest features, technology and algorithm.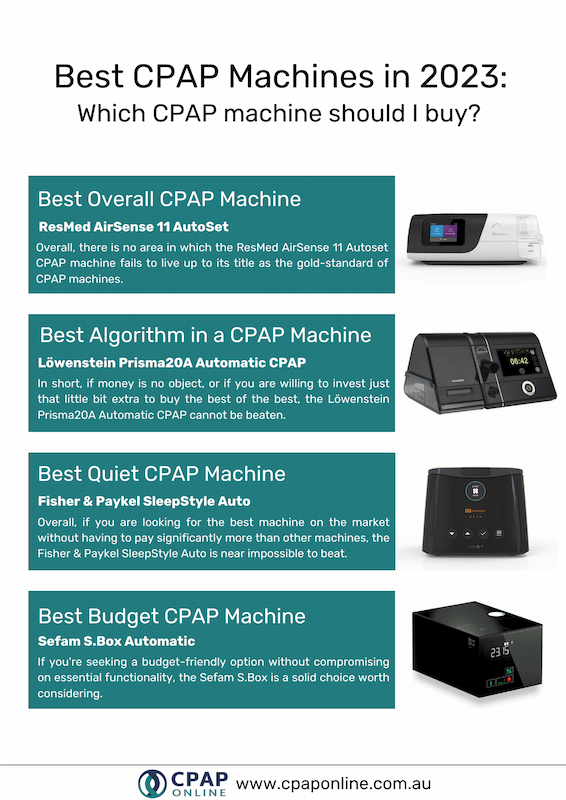 Best CPAP Machines in 2023: Which CPAP machine should I buy?
We hope that all of the above information will assist you to come to your own conclusion regarding what CPAP machine is best for you. With that being said, below are some of our recommendations.
What is the best CPAP machine currently on the market?
You may be wondering what the best CPAP machine is. All sleep apnoea machines currently on the market will offer you all of the features which are required to treat your sleep apnoea. The differences come down to comfort features, algorithm quality which varies by brand, and data access. Therefore, the best CPAP machine is dependent on your individual needs and preferences and there is no direct answer to that question. However, in this article, we will discuss what the current CPAP machines are that you can buy and provide information which may assist you to determine which is best for you.
Best All-Rounder CPAP Machine: ResMed AirSense 11 Autoset CPAP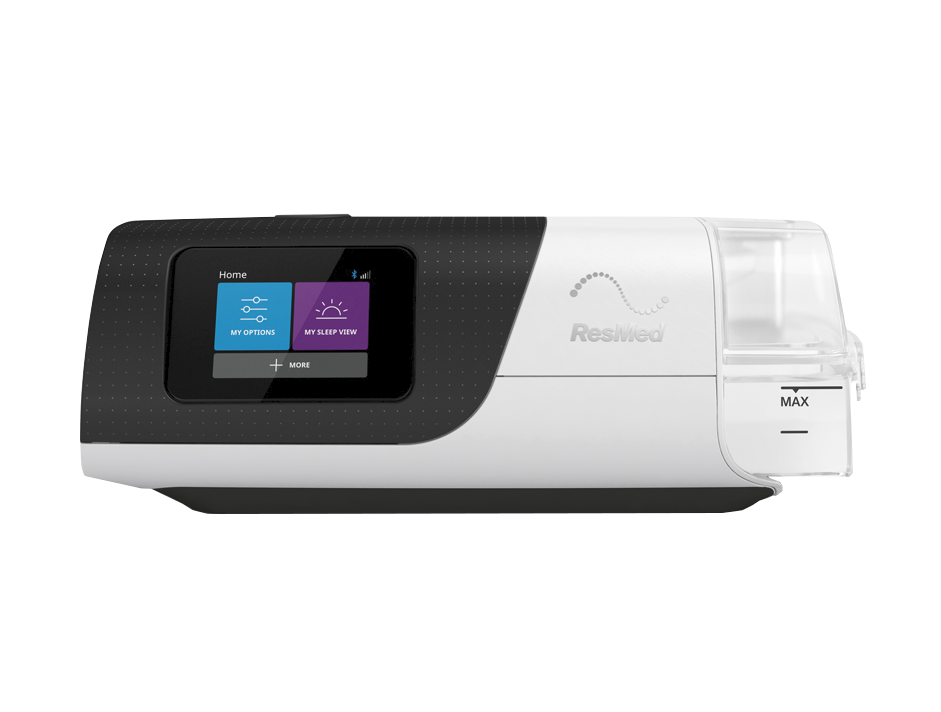 Our Verdict:
The ResMed AirSense 11 AutoSet CPAP is a highly popular and sleek automatic CPAP machine and the latest offering by ResMed currently available in Australia. It offers an integrated heated humidifier as well as cellular and bluetooth connectivity. It is known for its straightforward setup and use which is why it is considered the standard for CPAP machines. If you are interested in a CPAP machine that does it all, we will say it from the start – you can't go wrong with the ResMed AirSense 11 AutoSet.
For those wondering what's new in the ResMed AirSense 11 compared to its predecessor, the AirSense 10, ResMed has furnished its latest offering with advanced data transmission capabilities, including via Bluetooth, exclusive myAir app features, and integrated the 'For Her' algorithm so that there is only one AutoSet machine. This in addition to its new build, design and power efficiency updates makes using the AirSense 11 AutoSet the definitive ResMed CPAP experience in 2023.
The RedMed AirSense 11 AutoSet is a high quality machine with solid build quality which makes it durable and enjoyable to use. It is light, weighing in at only 1.13kg and, despite not being a travel-sized CPAP machine, is reasonably portable too. Whilst not the quietest machine on the market, the ResMed AirSense 11 AutoSet is an extremely quiet CPAP machine and will not interrupt your sleep or the sleep of your partner.
Its advanced pressure algorithms are sure to assist you to get a great night of sleep. Firstly, the AutoRamp feature of the ResMed AirSense 11 AutoSet CPAP machine ensures that you fall asleep comfortably. It begins at a lower pressure setting while you are still awake, then, as you fall asleep, the pressure will slowly rise until it reaches the desired pressure setting.
Once you are asleep, the advanced pressure relief settings will really start to demonstrate their pressure relief abilities. The machine will readjust the air pressure based on the data provided in every three breaths. The 'For Her' algorithm, included in the AirSense 11 AutoSet, on the other hand, works on a single breath index. This is because the female body is more sensitive to pressure spikes and dips in a CPAP machine, which can also impact the quality of sleep. Ultimately, this algorithm responds faster, but with a significantly lower pressure spike. This results in a much more improved sleep apnoea experience for women and is a great feature of the ResMed AirSense 11 Autoset CPAP machine.
Overall, there is no area in which the ResMed AirSense 11 AutoSet CPAP machine fails to live up to its title as the gold-standard of CPAP machines; ResMed is not the most popular CPAP brand on the market without reason. Its shortcomings are few and it is a complete package which is sure to help you to treat your sleep apnoea.
Things we liked:
Quality build, design and support
Fully-featured
Effective algorithm
Many comfort features
Compatible with the excellent MyAir app
Things we disliked:
Other brands have better algorithms
Other brands make quieter machines
Best Algorithm on a CPAP machine: Löwenstein Prisma20A Automatic CPAP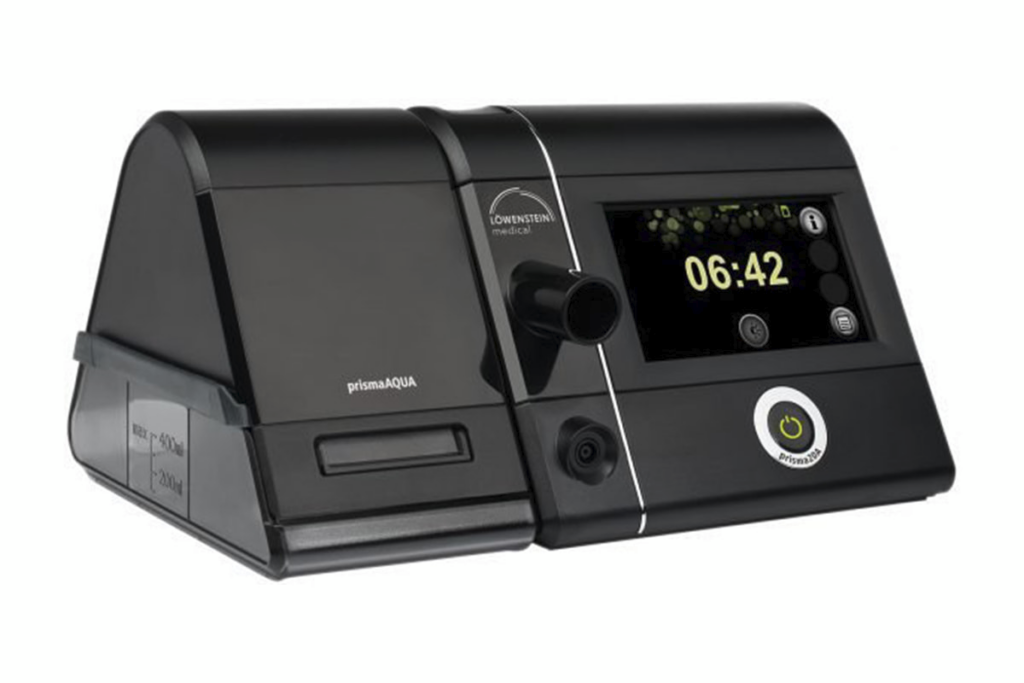 Our Verdict:
The Löwenstein Prisma20A is a top-of-the-line automatic CPAP machine that sets new standards in the industry with its exceptional build quality, Swiss motor, whisper-quiet operation, and outstanding automatic algorithm. While it comes with a higher price tag and might require a bit more familiarity to use, its impressive features make it stand out as a superior choice for those seeking the best in CPAP technology.
One aspect where the Löwenstein Prisma20A truly shines is its whisper-quiet operation. Users can enjoy a peaceful night's sleep without disturbances, as this CPAP operates quieter than anything else in its class. The near-silent performance creates a comfortable sleep environment, promoting a restful night for the user and even their sleeping partner.

The Prisma20A boasts an excellent automatic algorithm that adapts to the user's breathing patterns and needs throughout the night. The advanced algorithm ensures optimal therapy pressure, making adjustments as necessary in real-time. This dynamic approach to therapy guarantees that users receive the right amount of pressure at any given moment, enhancing the effectiveness of their CPAP treatment.
In short, if money is no object, or if you are willing to invest just that little bit extra to buy the best of the best, the Löwenstein Prisma20A Automatic CPAP cannot be beaten.
Things we liked:
Made in Germany
Near silent and the quietest CPAP machine currently on the market
Swiss-made Micronel blower is unique in its performance and design and regarded as the best in the world
400mL water chamber, largest of anything on the market
Pressure delivery is extremely efficient and accurate
SoftPAP pressure relief without decreasing apnoea control
Quality app and software options
Big touchscreen and intuitive menu
Things we disliked:
Quite large and heavy
Expensive
Best Quiet CPAP Machine: Fisher & Paykel SleepStyle Auto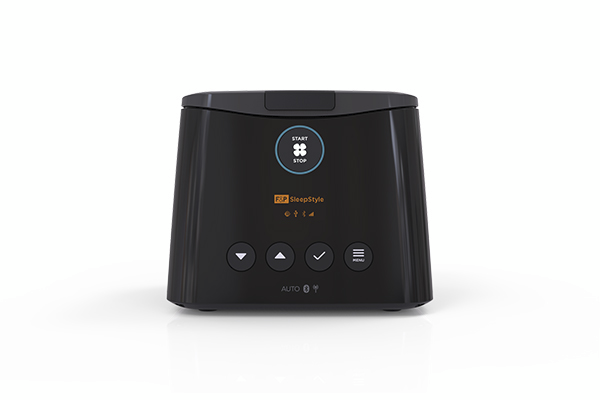 Our Verdict:
The Fisher & Paykel SleepStyle Auto CPAP machine is a powerhouse in the world of CPAP machines with an excellent value proposition. Its algorithm and acoustic profile are extremely close to that of the much pricier Löwenstein Prisma20A Automatic CPAP machine and its design, build and features rival that of the popular ResMed Airsense 11 AutoSet Automatic CPAP Machine.
The design of the Fisher & Paykel SleepStyle Auto CPAP machine is sleek and modern. Its compact size makes it convenient to keep near your bed and at a weight of 1.7kg, it is in a completely different class to the aforementioned Löwenstein Prisma20A Automatic CPAP machine, instead being more akin to the ResMed Airsense 11 AutoSet Automatic CPAP machine.
The Fisher & Paykel SleepStyle Auto CPAP machine also has an extremely intuitive and easy to use menu and control scheme. Its protruding, physical buttons allow you to control settings on its digital screen regardless of any ailments you may have such as arthritis or vision impairment which could otherwise affect your ability to use a touchscreen or dial like those featured on competing machines. Needless to say, the Fisher & Paykel SleepStyle Auto CPAP machine is the easiest machine to use and is perfect for the elderly or those who are not technologically savvy.
Ease of use is a recurring theme which carries over to its cleaning and maintenance as the Fisher & Paykel SleepStyle Auto CPAP machine has been designed with user-convenience in mind. The straightforward cleaning process means that anyone, regardless of how new they are to CPAP therapy, can keep their machine in top condition.
Finally, an aspect that sets this machine apart from the rest is its whisper-quiet operation. The Fisher & Paykel SleepStyle Auto CPAP machine operates near-silently, second only to the much pricier Löwenstein Prisma20A Automatic CPAP machine.
Overall, if you are looking for the best machine on the market without having to pay significantly more than other machines, the Fisher & Paykel SleepStyle Auto CPAP is near impossible to beat.
Things we liked:
Unmatched value
Easy to clean
Intuitive menu system
Accessible control scheme
Extremely quiet
Excellent, efficient algorithm
Compatible with the SleepStyle mobile app
Things we disliked:
Best Budget CPAP Machine: Sefam S.Box Automatic CPAP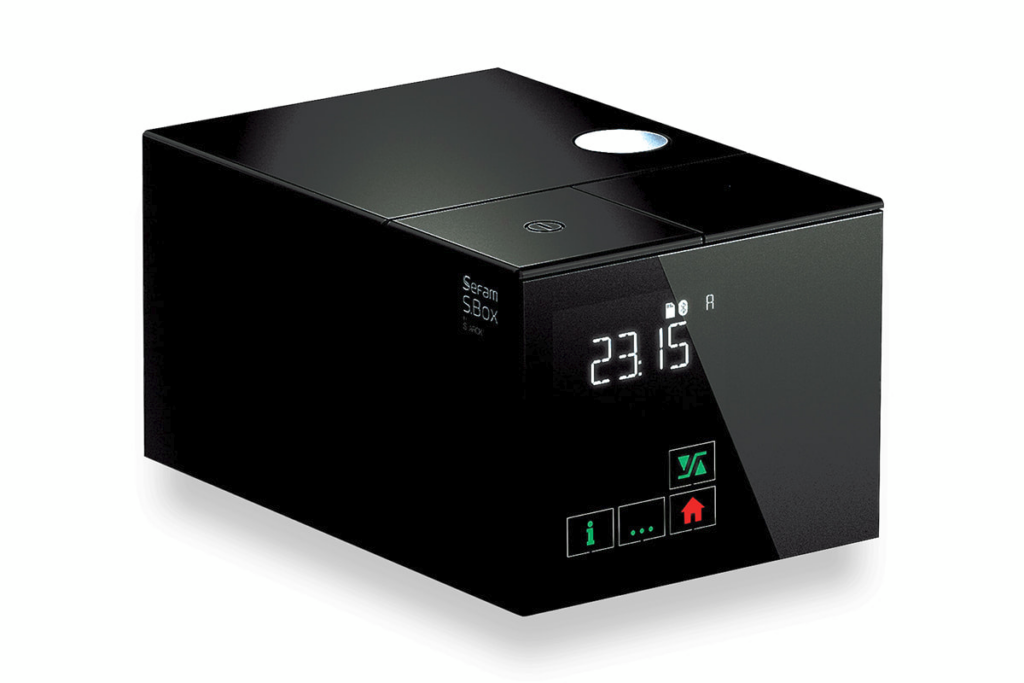 Our Verdict:
The Sefam S.Box Automatic CPAP machine, made in France, is an attractive budget option for individuals seeking a cost-effective solution for their sleep apnoea therapy. While it may not offer the same level of features and performance as its pricier competitors, it still delivers a reliable and effective CPAP experience without breaking the bank.
One of the standout features of the Sefam S.Box Automatic CPAP machine is its affordability. For budget-conscious CPAP users, this machine presents a fantastic option that doesn't compromise on essential functionality. It allows individuals on a limited budget to access necessary sleep therapy without having to invest heavily in more expensive alternatives.
User-friendliness is a key aspect of the Sefam S.Box Automatic CPAP machine. The device features an intuitive interface that simplifies the process of adjusting settings and customizing the therapy to suit individual preferences. With clear and easy-to-read display prompts, users can navigate through the various options effortlessly, making it accessible to both seasoned CPAP users and those new to sleep therapy.
If you're seeking a budget-friendly option without compromising on essential functionality, the Sefam S.Box is a solid choice worth considering.
Things we liked:
Made in France
Well-built machine
Unique and appealing design
Bluetooth connectivity
Includes integrated heated humidifier
Whisper quiet operation
Compatible with mobile app
Things we disliked:
Other brands have better algorithms
Other brands make quieter machines