In today's fast-paced world, getting a good night's sleep is more important than ever. For those battling sleep apnoea or other breathing-related disorders, continuous positive airway pressure (CPAP) therapy is a lifeline to a restful and rejuvenating slumber.
However, getting the therapy you need doesn't have to be expensive and the Sefam S.Box Automatic CPAP machine is a stand out in the world of feature-rich devices despite being so budget-friendly. With a comprehensive suite of features that rivals its more expensive counterparts, this device promises to provide a seamless and effective CPAP therapy experience without breaking the bank.
In this review, we'll dive deep into the Sefam S.Box, exploring its design, performance, features, and overall value proposition, to help you make an informed decision for a good night's rest.
Sefam S.Box CPAP Machine: Key Features at a Glance
Sleek and Modern Design
Whisper-Quiet Operation
Automatic Mode for Comfort Optimization
Ramp Function for Gradual Pressure Adjustment
Integrated Heated Humidifier
Bluetooth Connectivity for Enhanced Health Monitoring
Temperature-Controlled Heated Tube
Compatible with mobile app
Review Summary
The Sefam S.Box Automatic CPAP machine, made in France, is an attractive budget option for individuals seeking a cost-effective solution for their sleep apnoea therapy. While it may not offer the same level of performance as its pricier competitors, it still has all the bells and whistles of modern CPAP machines and delivers a reliable and effective CPAP experience without breaking the bank.
One of the standout features of the Sefam S.Box Automatic CPAP machine is its affordability. For budget-conscious CPAP users, this machine presents a fantastic option that doesn't compromise on essential functionality. It allows individuals on a limited budget to access necessary sleep therapy without having to invest heavily in more expensive alternatives.
User-friendliness is a key aspect of the Sefam S.Box Automatic CPAP machine. The device features an intuitive interface that simplifies the process of adjusting settings and customising the therapy to suit individual preferences. With clear and easy-to-read display prompts, users can navigate through the various options effortlessly, making it accessible to both seasoned CPAP users and those new to sleep therapy.
If you're seeking a budget-friendly option without compromising on functionality, the Sefam S.Box is a solid choice which is definitely worth your time and consideration.
Unboxing and Accessories: What comes in the box?
The Sefam S.Box is available at CPAP Online Australia with the following inclusions:
S.Box basic device with a 5 Year Manufacturer Warranty
S.Box SD card
Side cover
Inlet air filter
Patient manual
S.Box power supply
S.Box carrying bag
Flexible tube
S.Box heated humidifier
S.Box heated tube with ATC (Adaptive Thermo Control) 15 mm in diameter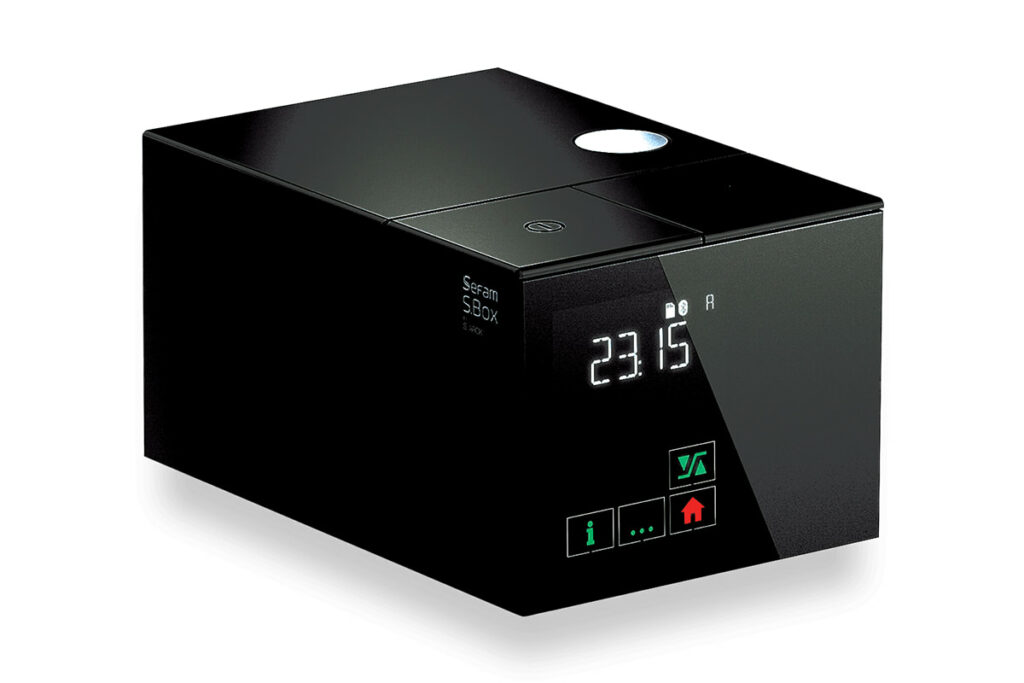 Sefam S.Box Automatic CPAP w/ Humidifier & Heated Hose
The Sefam S.Box is Newly released in Australia, by leading European CPAP brand Sefam Medical.
Features sleek design
Whisper quiet operation
Automatic mode self-adjusts for maximum comfort, algorithm continuously monitors to determines optimum pressure.
Includes ramp function to increase pressure to pre…

Additional Accessories:
Eventually, you will need to change the consumable and even the non-consumable components of your machine so that it can continue to provide you with quality sleep therapy. This includes replacing, or potentially replacing the:
Filters on your machine;
Hose;
Humidifier (chamber and/or base plate);
Fortunately, Sefam has made all of these products available for you to purchase here at CPAP Online Australia.
Furthermore, you may decide to purchase other accessories to keep your CPAP machine clean and its mask comfortable. We sell a wide range of products to assist you with your maintenance needs for all CPAP devices, including the S.Box.
Iconic French Style: Build Quality and Design of the S.Box
One of the most touted features of the Sefam S.Box is its deliberate design by iconic French designer, Phillipe Starck. The Sefam S.Box stands out among all other CPAP devices with its striking, unique design language which is sure to make it a design piece in your bedroom rather than looking like a generic medical device. 
Furthermore, the Sefam is able to match pricier competitors like ResMed and Löwenstein in confidence in the reliability of their device, offering a solid 5-year manufacturer warranty on the S.Box.
It is only about 26.44% larger than the ResMed AirSense 10 with dimensions of 245mm x 185mm x 110mm and it is about 400g heavier at ~1700g, compared to the AirSense 10's 1248g. With that being said, the primary use case of a CPAP device is sat upon a bedside table, so it is not likely that these differences in size and weight will amount to much when it comes to practical use of the device.
When it comes to travelling with the device, it is likely that the humidifier will be replaced by the included Side Cover of the device. In this case, the Sefam S.Box dimensions become 245mm in height, around 140mm in width, and approximately 110mm in depth and the weight is reduced to about 1400 grams. For more information about travelling with the Sefam S.Box, check out our travel guide.
Overall, it cannot be denied that the S.Box was designed to be a true statement piece and that it is made with quite remarkable durability, even if it is a little heavier than its pricier competitor, the ResMed AirSense 10.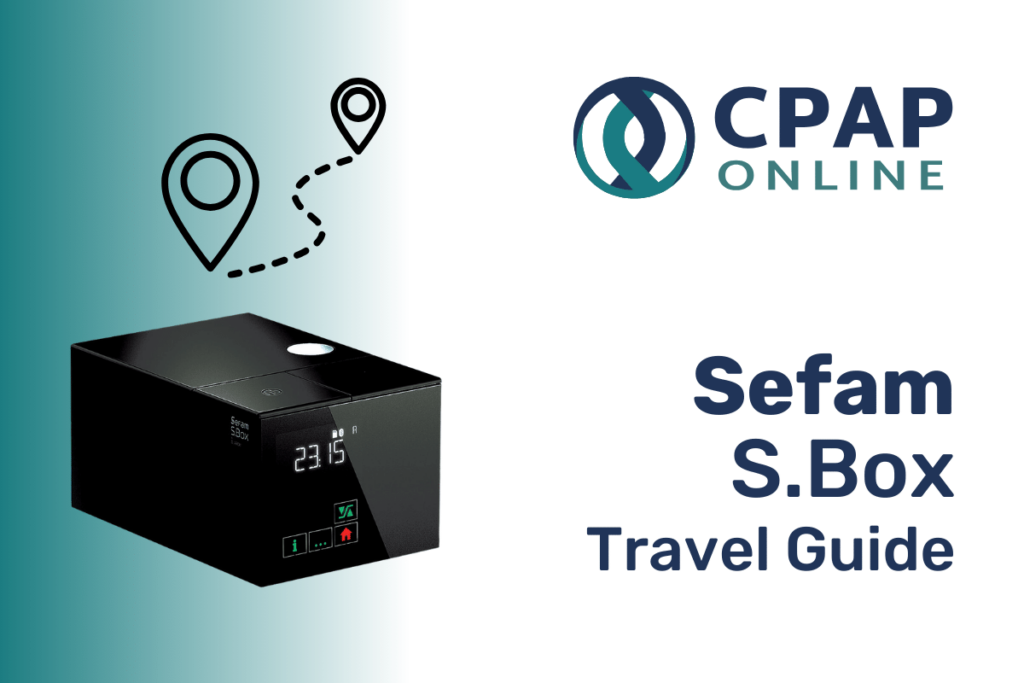 Punching Above Its Weight: Sefam S.Box Touchscreen
The Sefam S.Box impresses with its generously sized and user-friendly touchscreen, which serves as the central control and data visualisation hub of the device. This standout feature, not present on competitors like the ResMed AirSense 10 or the Fisher & Paykel SleepStyle, leads to an exceptional user-experience, ensuring effortless operation and seamless navigation through its diverse functions.
A Silent Disruptor: Experience Quiet CPAP with the Sefam S.Box
When it comes to choosing a CPAP machine, one of the most critical factors for many users is noise level. A noisy machine can disrupt your sleep, causing discomfort and potentially defeating the purpose of your CPAP therapy. Typically, high-end devices are praised for their quiet operation, but the Sefam S.Box breaks the mould by offering a remarkable level of quietness that rivals even the ResMed AirSense 10 and AirSense 11, two of the most well-regarded machines in the CPAP market.
Despite being a more budget-friendly option, the Sefam S.Box achieves a noise level of just 27 decibels when the humidifier is in use. This places it in the same league as the AirSense 10 and AirSense 11 in terms of acoustic performance, making it an excellent choice for those who prioritise quiet CPAP therapy without breaking the bank.
The 27 dBA rating is particularly noteworthy because it means that users can enjoy a peaceful night's sleep without being disturbed by the noise generated by the CPAP machine. Whether you're sharing a bedroom with a partner or simply prefer a serene sleeping environment, the Sefam S.Box's ability to provide such low noise levels is a standout feature that sets it apart from other budget-friendly options in the market.
For many, the decision to invest in CPAP therapy is not only about addressing sleep apnoea but also about improving the overall quality of their rest. The Sefam S.Box recognizes this need and ensures that its users can experience the benefits of quiet, uninterrupted sleep, all while offering a cost-effective solution.
Features and Settings: The Sefam S.Box Has It All
Although the Sefam S.Box is competing with mid-range budget devices in price, do not be fooled. The Sefam S.Box is an extremely feature-rich device, being just about one-to-one with CPAP devices that come at more of a premium.
In this section, we will explore the many features that make the Sefam S.Box such a disruptor in the CPAP market.
Automatic Algorithm: Pressure That Changes While You Sleep
The Sefam S.Box isn't just a CPAP machine, it's an Automatic CPAP machine. This means that the S.Box uses an algorithm while you're asleep and responds to apnoea events by adjusting its pressure output to what is needed by the patient. Of course, the algorithm can be disabled and you can use the Sefam S.Box as a fixed-pressure CPAP machine if you have been prescribed a certain pressure level to use.
Mask Fit & Go: Say Goodbye to Mask Leaks
One of the primary concerns with CPAP therapy is ensuring a proper seal between the mask and your face. The Sefam S.Box simplifies this process with the "Mask Fit & Go" feature. Before starting your treatment or while the device is in standby mode, you can check the air tightness of your mask. This feature rivals that of the Mask Fit feature on the significantly pricier ResMed AirSense 11. By tapping the touch button, the device provides information on any residual mask leaks, making it easy to adjust your mask for a secure fit. This not only ensures your comfort during treatment but also helps maximise the effectiveness of your therapy.
Additionally, the "Mask Unplugged" feature offers convenience and safety competing head on with the "SmartStart" and "SmartStop" features on ResMed's devices and their equivalents on other machines. If you happen to remove your mask during the night, the device automatically reduces the flow. When you reconnect your mask or press the Start/Standby button, the machine smoothly restores normal flow and pressure, eliminating the need for manual adjustments. If neither of these actions occurs within 30 minutes, the machine will stop, allowing you to get up or attend to your needs without disruption.
Bluetooth Connectivity and Mobile App Compatibility: Advanced Health Data
Staying on top of your CPAP therapy progress and health data is made easy with the Sefam S.Box. The machine boasts Bluetooth connectivity, enabling seamless integration with a dedicated mobile app. This allows you to monitor your therapy data, make adjustments, and track your sleep patterns in real-time, providing valuable insights for both you and your healthcare provider. This level of connectivity not only enhances the convenience of your therapy but also promotes better health monitoring.
Furthermore, the S.Box is extensible with iHealth devices such as their watch, scales and blood pressure monitor integrations so that you can get a better overall picture of your health outcomes.
Comfort Control Plus: Small Adjustments, Big Impact
The Comfort Control Plus (CC+) feature is all about enhancing your treatment comfort and directly rivals the Expiratory Pressure Relief Feature on ResMed's machines. With CC+, the Sefam S.Box adjusts the treatment pressure based on your breathing patterns. It slightly increases the pressure when you inhale and decreases it when you exhale, ensuring that your breathing feels natural and comfortable. You have the flexibility to activate CC+ during the ramp phase or throughout the entire treatment. Three levels of adjustment are available to cater to your individual preferences, allowing you to find the optimal setting for your comfort and efficacy.
Ramp Function: Fall Asleep More Easily
Falling asleep while using a CPAP machine can sometimes be a challenge due to the initial pressure sensation. The Sefam S.Box addresses this concern with its "Ramp" function, which has become a staple feature on more expensive devices like the Fisher & Paykel SleepStyle, Löwenstein Prisma20A and the ResMed AirSense 10 and AirSense 11.
When activated, the device gradually increases the pressure from a lower initial setting (ramp pressure) to the prescribed pressure over a specific duration known as "ramp time." There are two types of ramp available:
Time Ramp (T RAMP): In this mode, the ramp time is fixed and the pressure will increase gradually until the set time elapses.
Intelligent Ramp (I RAMP): With this option, the device automatically adjusts the ramp time based on your breathing patterns. It detects obstructive breathing events to determine when you've fallen asleep and adjusts the pressure accordingly.
The ramp feature begins automatically when the device is switched on, provided the ramp time is not set to zero. You can also deactivate the ramp function at any time by pressing the ramp button.
Integrated Heated Humidifier and Heated Hose: Never Sacrifice Comfort
Ensuring that the air you breathe during CPAP therapy is comfortable and not overly dry is crucial for overall comfort. The Sefam S.Box makes it so that this does not have to be a premium feature which is out of budget for most people.
It comes equipped with an integrated heated humidifier, which allows you to add moisture to the air, reducing dryness and irritation. This feature can significantly enhance your sleep quality by mitigating common side effects of CPAP therapy, such as a dry throat or congestion.
The Sefam S.Box also offers the added comfort of a temperature-controlled heated tube. This feature ensures that the air delivered through the tubing remains at an optimal temperature, preventing condensation and maintaining consistent therapy conditions. It's a small but crucial addition that contributes to your overall comfort and compliance during CPAP therapy.
All of this is included with the Sefam S.Box when you purchase it at CPAP Online Australia.
Sefam S.Box Review Conclusion
In the world of CPAP machines, where sleep quality and health are paramount, the Sefam S.Box emerges as a budget-friendly gem that punches well above its weight. The Sefam S.Box is packed with so many remarkable features and capabilities, placing it on par with its more expensive counterparts in the market.
The S.Box makes an undeniable case for being a compelling budget-friendly option in the world of sleep apnea therapy. While it may not reach the pinnacles of performance seen in its higher-priced counterparts, this machine firmly stands its ground, boasting all the modern features expected from a CPAP device while offering an affordable solution for those on a budget.
It bridges the gap between necessity and affordability, allowing individuals to access the vital sleep treatment they require without the financial constraints often associated with pricier alternatives.
The Sefam S.Box is a robust and dependable choice, proving that quality sleep therapy does not have to come at a premium, making it a compelling option for anyone in search of an effective yet budget-conscious CPAP solution.