In the ever-evolving landscape of sleep medicine, the Löwenstein Prisma20A has emerged as a beacon of innovation and progress. As sleep disorders continue to impact millions of lives worldwide, clinicians and researchers are constantly seeking advanced solutions that improve diagnosis, treatment, and patient outcomes. Enter the Löwenstein Prisma20A – a state-of-the-art sleep diagnostic device, made in Germany, and designed to push the boundaries of sleep medicine and redefine the way we approach sleep-related conditions.
This Lowenstein Prisma20A review delves into the world of this charming German CPAP machine, exploring its incredible build, unparalleled accuracy, and numerous features. We will help you decide whether or not this machine is right for you!
Löwenstein Prisma20A CPAP Machine: Key Features at a Glance
Two Modes: CPAP and APAP
Large touchscreen with smart menu navigation allows fast and intuitive operation
Two options (standard, dynamic) in APAP mode
3 Level Pressure relief softPAP, with additional inspiratory support in Level 3
Deep Sleep Indicator for sleep quality evaluation
autoSTART, autoSTOP and softSTART
Versatile Connectivity including cellular, Micro USB and the option of Bluetooth connectivity
Review Summary
The Löwenstein Prisma20A is a top-of-the-line automatic CPAP machine that sets new standards in the industry with its exceptional build quality, Swiss motor, whisper-quiet operation, and outstanding automatic algorithm. While it comes with a higher price tag and might require a bit more familiarity to use, its impressive features make it stand out as a superior choice for those seeking the best in CPAP technology.
One aspect where the Löwenstein Prisma20A truly shines is its whisper-quiet operation. Users can enjoy a peaceful night's sleep without disturbances, as this CPAP operates quieter than anything else in its class. The near-silent performance creates a comfortable sleep environment, promoting a restful night for the user and even their sleeping partner.
The Prisma20A boasts an excellent automatic algorithm that adapts to the user's breathing patterns and needs throughout the night. The advanced algorithm ensures optimal therapy pressure, making adjustments as necessary in real-time. This dynamic approach to therapy guarantees that users receive the right amount of pressure at any given moment, enhancing the effectiveness of their CPAP treatment.
In short, if money is no object, or if you are willing to invest just that little bit extra to buy the best of the best, the Löwenstein Prisma20A Automatic CPAP cannot be beaten.
Unboxing and Accessories: What comes in the box?
The Löwenstein Prisma20A is available at CPAP Online Australia with the following inclusions:
Prisma20A basic device with a 5 Year Manufacturer Warranty
PrismaBAG premium, carrying bag
PrismaHYBERNITE 15mm Flexible Heated Breathing Tube (WM29083)
Power supply unit
Main power cable AU/NZ type I
Set of 2 air filters
SD card
PrismaAQUA humidifier
Instructions for use prisma20C/20A/CR/25S/25S-C/25ST/30ST/30ST-C/LAB, EN
Instructions for use prismaAQUA DE, EN, FR, NL, IT, TR, ES(MX)
Modem for Prisma CLOUD incl. 5 years data transmission (WM31770)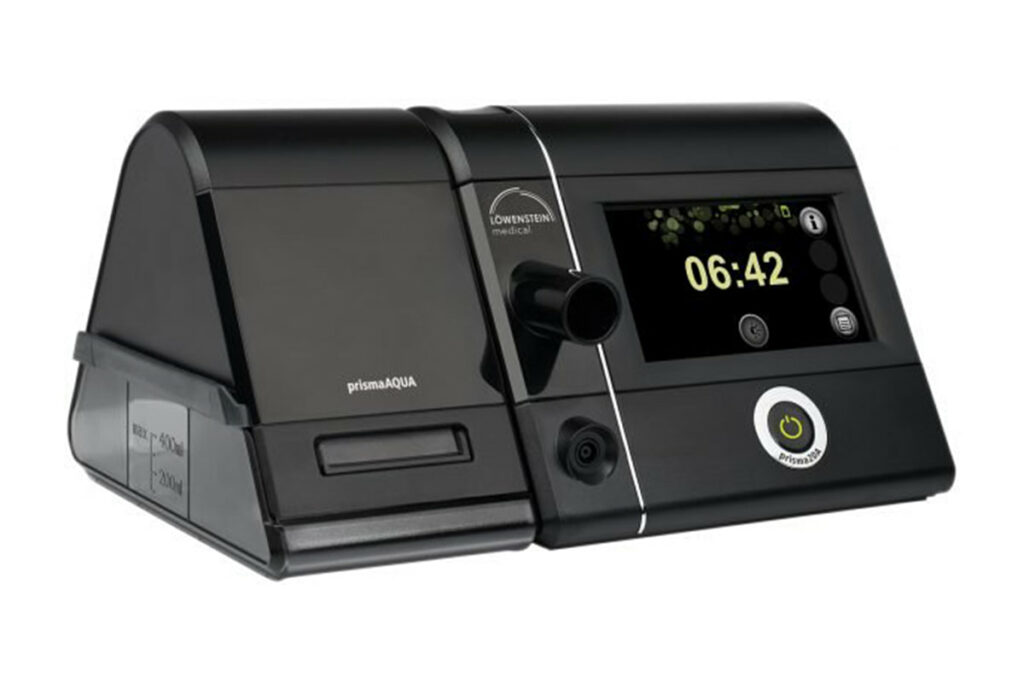 Löwenstein Prisma20A Automatic CPAP (Incl. PrismaAQUA Humidifier, Heated Hose, 3G Modem)
Please note: A requirement of purchasing this machine is a complementary Telehealth session.

Additional Accessories:
Eventually, you will need to change the consumable and even the non-consumable components of your machine so that it can continue to provide you with quality sleep therapy. This includes replacing, or potentially replacing the:
filters on your machine;
hose; or
humidifier.
Fortunately, Löwenstein has made all of these products available for you to purchase here at CPAP Online Australia.Furthermore, you may decide to purchase other accessories to keep your CPAP machine clean and its mask comfortable.We sell a wide range of products to assist you with your maintenance needs for all CPAP devices, including the Prisma20A.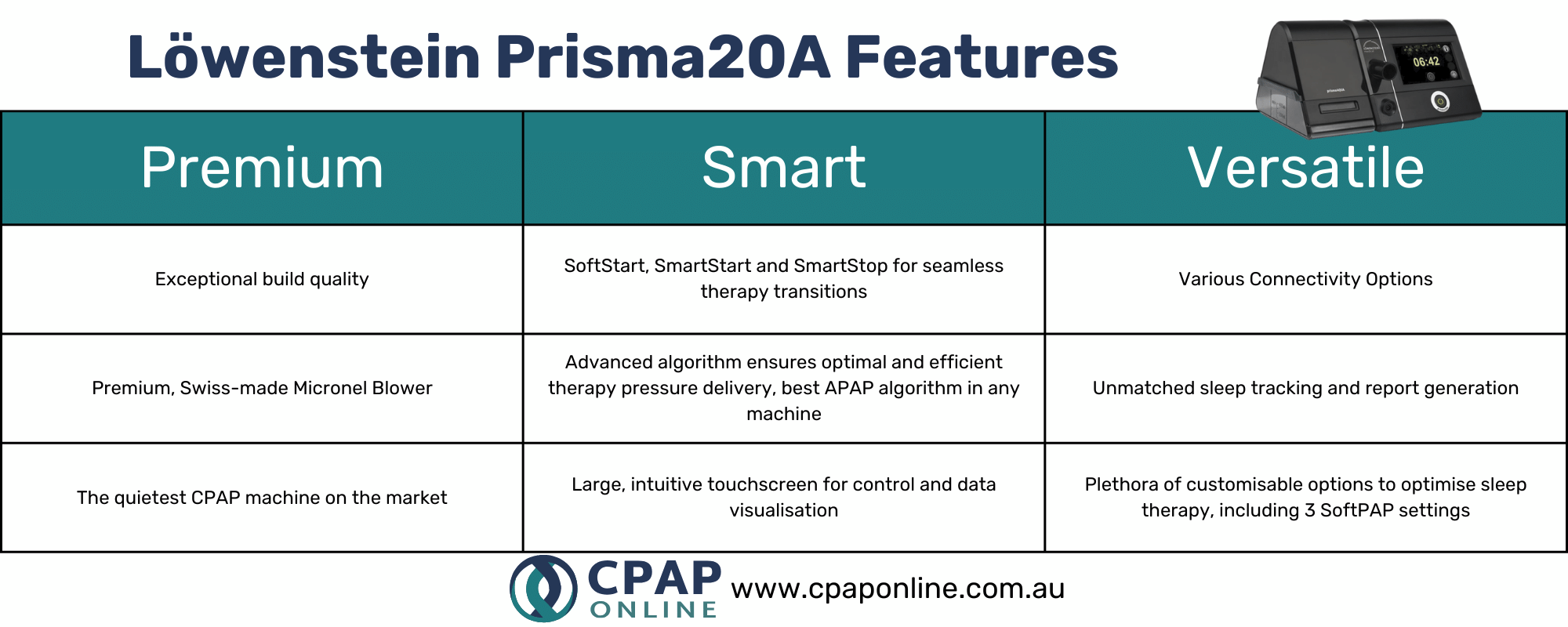 Built Like a Tank: Build Quality and Design of the Prisma20A
One of the most striking aspects of the Löwenstein Prisma20A is its robust build quality and thoughtful design, which make it stand out as a durable and reliable sleep diagnostic device. Good medical equipment should be able to withstand rigorous use while maintaining consistent performance and the Prisma20A exceeds expectations with its rugged construction. In fact, Löwenstein are so confident in their product that they offer a 5-year manufacturer warranty with the Prisma20A.

Whilst it is quite large, heavy – at 2.4kg – and not the prettiest machine on the market, it cannot be denied that the Prisma20A has exceptional build quality, a clear demonstration of German-engineering at its finest.
Fast and Intuitive Navigation with Large Touchscreen
The Löwenstein Prisma20A boasts a large and intuitive touchscreen that serves as the central control and data visualisation hub for the device. This standout feature enhances the user experience for clinicians, sleep technicians, and patients, making it remarkably easy to operate and navigate through the various functions.
Swiss-made Micronel blower, regarded as the best in the world
At the heart of the Löwenstein Prisma20A lies a key component that ensures its exceptional performance – the blower, meticulously crafted by traditional Swiss company, Micronel. A family-owned company since 1968, Micronel is known for their remarkable pioneering achievements including the development of the world's smallest fan and smallest high-pressure blowers.
Micronel's expertise in blower design has played a pivotal role in elevating the performance of the Löwenstein Prisma20A. With a legacy of innovation and a commitment to quality, Micronel's contribution ensures that the Prisma20A is equipped with a reliable and durable blower, providing users of the Prisma20A with a tool they can trust to deliver precise and effective positive airway pressure therapy.
Unparalleled Silence: Embrace Peaceful Nights with the Löwenstein Prisma20A
Noise disruptions can have a profound impact on the quality of your sleep therapy, affecting your overall well-being and comfort. That's why the Löwenstein Prisma20A is engineered to provide an unparalleled level of silence, surpassing industry competitors and delivering a whisper-quiet experience for your sleep therapy.
In comparison to the ResMed AirSense 11, the Prisma20A proves to be the quieter contender, offering approximately 4 decibels1 less noise during operation – a little more than the difference between an electric drill and a lawnmower2. This significant difference can lead to a substantial disparity in your sleep therapy experience between the two machines, allowing you to enjoy a more peaceful and restful night's sleep without any disturbances.
Powerhouse Features: Uncover the Prisma20A's Capabilities
In this section, we will explore the many features that make the Löwenstein Prisma20A a true powerhouse in sleep medicine. From its utilisation of Forced Oscillation Technique (FOT) for precise diagnosis to its intelligent and adaptive auto-adjusting positive airway pressure (APAP) system, the Prisma20A is designed to provide exceptional comfort and efficacy during sleep therapy. We will delve into its flexible setting options, process-supporting functions, and how it prioritises patient-centric care for improved treatment outcomes; empowering you with the tools to take control of your sleep health and well-being.
SoftStart: Gentle Ramp-Up for Enhanced Comfort and Compliance
SoftStart is one of the standout features of the Löwenstein Prisma20A, designed to enhance patient comfort and promote therapy compliance during sleep apnea treatment. This innovative technology addresses the common discomfort experienced by some patients when the therapy pressure abruptly starts at its prescribed level. If you're experienced with CPAP, you may know this feature as AutoRamp, as it's called on ResMed's machines.
The benefits of SoftStart extend beyond comfort alone. By promoting a smoother transition into therapy, this feature encourages better adherence to treatment recommendations, increasing the likelihood that patients will continue using the Prisma20A consistently. Compliance is a critical aspect of sleep apnea management, and SoftStart plays a significant role in improving the overall therapy experience for patients, contributing to better long-term outcomes.
The SoftStart feature on the Prisma20A is customizable, allowing healthcare professionals to adjust the ramp-up duration according to individual patient needs. This flexibility ensures that patients can experience a personalised and tailored therapy experience that suits their comfort level and specific requirements.
SmartStart and SmartStop: Empowering Seamless Therapy Transitions
These cutting-edge functionalities are designed to optimise your sleep therapy, ensuring smooth and effortless transitions during the beginning and end of each sleep session.
SmartStart
SmartStart is an excellent feature that eliminates the need to manually initiate sleep therapy. With SmartStart, the Prisma20A automatically begins delivering therapy once you put on your mask and start breathing. This seamless and intuitive process saves you time and hassle, allowing you to focus on achieving restful sleep without worrying about setting things up.
The gentle initiation provided by SmartStart helps you ease into your sleep therapy, making it especially beneficial during those initial moments when falling asleep. No more fumbling with buttons or dials – SmartStart takes care of everything, ensuring you can comfortably and effortlessly transition into a night of restorative sleep.
SmartStop
Just as SmartStart makes therapy initiation effortless, SmartStop ensures a gradual and seamless transition when it's time to wake up. Upon detecting that you have removed your mask, the Prisma20A will automatically and gradually reduce the therapy pressure until it reaches its minimum setting. This gentle tapering off allows you to wake up naturally and comfortably, without any abrupt changes in air pressure that might disrupt your morning routine.
SmartStop takes the stress out of waking up from therapy, promoting a smoother start to your day. By providing a gradual reduction in therapy pressure, SmartStop helps you feel refreshed and energised as you start your morning, setting a positive tone for the day ahead.
Together, SmartStart and SmartStop form a dynamic duo that transforms your sleep therapy experience with the Prisma20A. They make starting and stopping your therapy effortless and comfortable, ensuring that you can focus on getting the rest you need for better overall well-being.
PrismaAQUA Humidifier: Optimal Comfort and Convenience
The Löwenstein Prisma20A sets a new standard in sleep therapy with its exceptional PrismaAQUA humidifier, offering a level of comfort and convenience that surpasses anything else on the market, making dry upper airways an issue of the past. Designed with your well-being in mind, the PrismaAQUA humidifier ensures a soothing experience throughout the night, promoting better sleep and enhanced therapy outcomes.
At the heart of the advanced PrismaAQUA humidifier is its impressive 400mL water chamber – the largest of its kind on the market and offering 20mL more water capacity compared to the AirSense 11. This generous capacity ensures an extended humidification period, providing you with consistent and optimal humidity levels throughout your sleep session. Say goodbye to waking up with dry upper airways, as the PrismaAQUA humidifier in the Prisma20A has you covered with ample water to keep you comfortably hydrated all night long.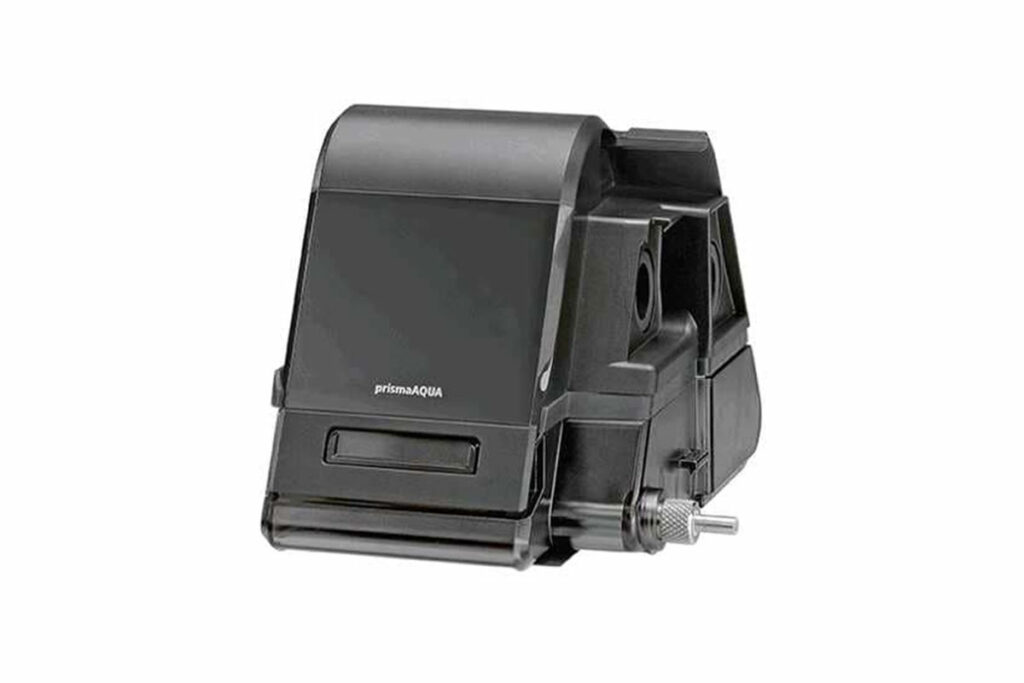 Löwenstein Prisma20A PrismaAQUA Humidifier
Replacement humidifier (colour black) for Lowenstein Prisma20A
Advanced Algorithm: Perfectly Dialled-In Pressure
One of the most impressive feats of the Löwenstein Prisma20A is the incredible efficiency and precision with which its auto-CPAP algorithm functions. With the help of Forced Oscillation Technique (FOT) which makes it such that the Prisma20A can tell the difference between obstructive and central aponoea events, the Prisma20A's auto-CPAP algorithm responds by adjusting its pressure output to exactly what is needed by the patient. Not so much pressure that it disrupts sleep, nor so little pressure that the apnoeas are not adequately addressed.
Prisma20A (PrismaLINE) vs Prisma SMART & SOFT Series
| | | | |
| --- | --- | --- | --- |
| | Features/Benefits | PrismaLINE Touch Screen Series | Prisma SMART & SOFT Series |
| Device | APAP and CPAP models available | Yes | Yes |
| | Obstruction detection FOT/FBT | Yes | Yes |
| | Adapttive pressure regulations for effective therapy and breathing comfort (APAP) | Yes | Yes |
| | Std (Standard) & Dyn (Dynamic) APAP settings | Yes | Yes |
| | Premium German-made quality with 5 year warranty | Yes | Yes |
| | BiLevel/TriLevel models available | Yes | No |
| | Premium Swiss-engineered radial blower for unsurpassed power & quietness | Yes | No |
| | Large intuitive colour touch screen display | Yes | No |
| | Integrated heated tube (power supply on machine) | Yes | No |
| | Alarm Clock | Yes | No |
| | Dimmable screen | Yes | No |
| | Different language options for display | Yes | No |
| | Setting option for use with bacteria filter | Yes | No |
| Compliance & Comfort | softSTART (Ramp) | Yes | Yes |
| | Mask test | Yes | Yes |
| | Leak display during operation | Yes | Yes |
| | autoSTART-STOP | Yes | Yes |
| | PrismaAQUA Humidifier (400mL) | Yes | Yes |
| | 5 levels of humidification output | Yes | Yes |
| | Pressure relief softPAP 1 & 2 | Yes | Yes |
| | 7 levels of humifidications output | Yes | No |
| | Pressure relief softPAP 3 (with inspiration support) | Yes | No |
| | Breathing display during operation (inspiration, expiration or apneoa) | Yes | No |
| | Smart Aqua Control (optional preheat, warm-up boost, & leakage flow compensation) | Yes | No |
| Data Review | Prisma RECOVER Deep Sleep Indicator | Yes | Yes |
| | Patient review usage, AHI & leakage (if enabled by clinician) | Yes | Yes |
| | PrismaTS detailed clinical software | Yes | Yes |
| | Prisma JOURNAL for patient (statistics and reports) | Yes | Yes |
| | Prisma APP Bluetooth Connectivity | Yes | Yes |
| | Remote reporting & telesettings (PrismaCLOUD) | Yes | Yes |
| | SD Card | Yes | Yes |
| | Extra detailed clinical info meu on device including different event types, VT, MV, deep sleep indicator | Yes | No |
| | Micro-USB cable | Yes | No |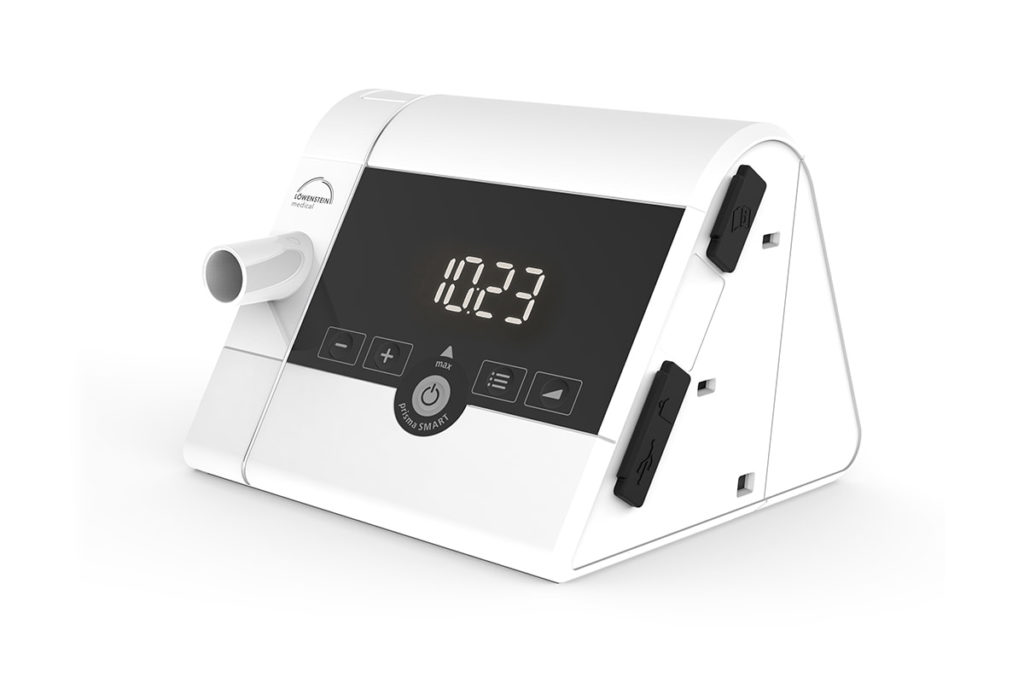 Löwenstein PrismaSMART max 4G – Automatic CPAP w/ Humidifier & Heated Tube
Please note: A requirement of purchasing this machine is a complementary Telehealth session.
Versatile Connectivity Options: Uniting Your Sleep Therapy Experience
The Löwenstein Prisma20A is designed to seamlessly integrate into your modern lifestyle, offering a range of versatile connectivity options that enhance your sleep therapy experience like never before. This innovative sleep diagnostic device ensures you stay connected, informed, and in control of your therapy data through various connectivity pathways, including:
Prisma App Bluetooth Connectivity – with the external modem
Micro USB Connectivity
Prisma RECOVER Deep Sleep Indicator
PrismaTS Detailed Clinical Software
Remote Reporting and Telesettings via PrismaCLOUD
SD Card
3G Connectivity
Note: The Löwenstein Prisma20A uses a 3G cellular modem. However, as 3G is going to be phased out in Australia as of September 2024, Löwenstein has confirmed that these modems will be replaced with 4G modems, free of charge.
Prisma RECOVER: Unravelling the Mysteries of Your Restful Slumber
Prisma RECOVER continuously analyses the patient's breathing pattern while they are asleep. This allows for the comprehensive analysis of sleep stages, including deep sleep (slow-wave sleep), light sleep, and rapid eye movement (REM) sleep. Deep sleep is a critical stage that plays a pivotal role in rejuvenation and recovery, promoting physical and mental restoration.
As the Prisma20A's Deep Sleep Indicator unravels the mysteries of your sleep, you gain access to a level of knowledge that elevates your sleep therapy experience. This gives you the potential for a deeper, more rejuvenating rest. You can find your Deep Sleep Indicator score on the Prisma App.
Prisma App
The Löwenstein Prisma App revolutionises the way you interact with your sleep therapy, offering a powerful companion to the Prisma20A sleep diagnostic device. This cutting-edge mobile application seamlessly integrates with the Prisma20A, allowing you to control your CPAP machine and adjust comfort settings remotely and providing you with a host of valuable features that enhance your sleep therapy experience.
You can use this app to set therapy goals and receive meaningful information about your progress, which you can then share with your healthcare provider. Furthermore, the Prisma App can be used to open a therapy journal, so that you can generate personal reports documenting how you are feeling about your therapy.
Prisma CLOUD
Prisma CLOUD, is an online tool developed primarily for healthcare professionals to provide remote therapy monitoring and support for their patients. Using Prisma CLOUD, your sleep clinician is able to see on their dashboard:
your details and contact details;
what progress you are making with your sleep therapy goals;
what device you are using;
therapy settings – including the mode you have selected and what your machine's pressure is set to;
AHI;
usage time; and
other detailed statistics and remote configuration options.
In addition to its extremely functional and straightforward dashboard, Prisma CLOUD can also be used to create a report for any time range which will be downloaded as a PDF to your clinician's computer. The report provides information about the patient's sleep quality and compliance, displayed efficiently in the overview in the form of pie charts and in a more detailed, night by night form using histograms throughout the rest of the report. This allows whoever is reviewing the data to see patterns in the user's data and treatment progress, both in the short term and in the long term.
PrismaTS/PrismaTSlab
PrismaTSlab is an advanced software for Löwenstein's CPAP machines, intended for use by healthcare professionals. PrismaTSlab seamlessly integrates with the Löwenstein Prisma20A, providing a robust and efficient solution for managing and monitoring CPAP therapy. The software is specially designed to communicate and interact with the Prisma20A equipment, ensuring a smooth exchange of data and control.
With PrismaTSlab, healthcare professionals can effortlessly access and evaluate the therapy progress of patients using the Löwenstein Prisma20A. The software reads the data from the Prisma20A's SD card and presents it in easy-to-understand graphs and summaries. This allows doctors to make informed decisions about each patient's treatment, ensuring the best possible outcomes.
Moreover, PrismaTSlab's ability to handle data from multiple patients means that it can efficiently manage and store the therapy records of each Prisma20A user. The software's database stores information from each SD card read, enabling comprehensive tracking and historical analysis of therapy progress for individual patients over time.
By utilising PrismaTSlab with the Löwenstein Prisma20A, medical professionals can streamline their workflow, improve patient care, and make data-driven decisions for optimising CPAP therapy. The seamless integration between PrismaTSlab and the Prisma20A empowers clinics and healthcare providers with a powerful toolset for managing and enhancing sleep apnea treatment.
CPAP Perfection: Löwenstein Prisma20A Review Conclusion
In conclusion, the Löwenstein Prisma20A is undeniably an exceptional automatic CPAP machine that stands at the forefront of the many treatment options for sleep apnoea. With its outstanding build quality, Swiss motor, and whisper-quiet operation, it sets new benchmarks in the industry. The advanced automatic algorithm ensures that users receive personalised and optimal therapy pressure, adapting to their breathing patterns in real-time. This feature alone significantly enhances the effectiveness of CPAP treatment, leading to a more restful and rejuvenating night's sleep.
Whilst it may come with a higher price tag and require a bit more familiarity to use, the Prisma20A's impressive features and performance justify the investment for those seeking the best in CPAP technology. Its near-silent operation not only promotes a comfortable sleep environment but also ensures an undisturbed night for the user and their sleeping partner.
For those who prioritise top-notch sleep therapy and are willing to invest in the best of the best, the Löwenstein Prisma20A is unrivalled in its category. Its excellence in build, operation, and algorithm make it a superior choice that can significantly improve the quality of life for individuals dealing with sleep apnea and other related conditions. Overall, the Löwenstein Prisma20A is a standout choice, delivering sleep therapy excellence that truly makes a difference.