Sleep apnoea, a common yet potentially serious condition, disrupts the breathing patterns of millions worldwide. Continuous Positive Airway Pressure machines, or CPAP machines, like the ResMed AirSense 11 and Philips' DreamStation line of devices, play a pivotal role in treating this ailment, ensuring patients breathe easier and sleep better.
To determine a winner in the battle of ResMed AirSense 11 vs Philips DreamStation, we've put these two head-to-head. Our Philips DreamStation vs ResMed AirSense 11 comparison is here to guide you in your search for the best sleep therapy solution.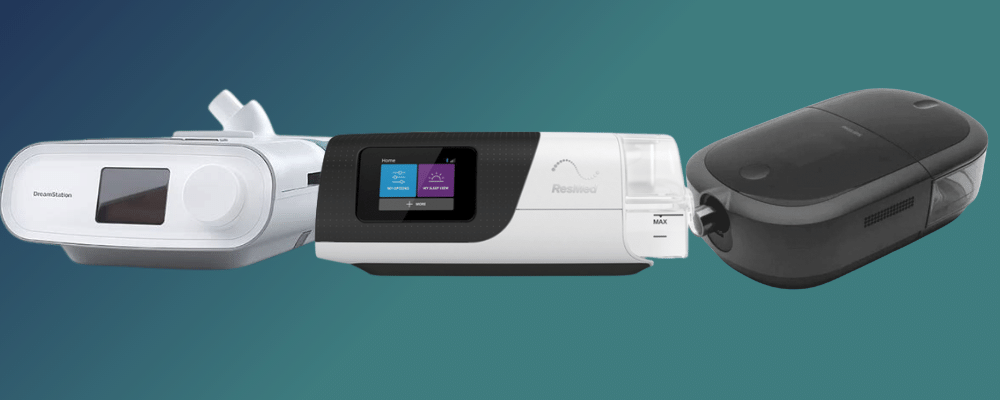 Philips vs. ResMed: Pioneers of Sleep Therapy in Australia
With a rich history of innovation, Philips Respironics and ResMed Australia have been at the forefront of sleep therapy. ResMed, founded in 1989 in Australia, and Philips, with its global market presence since 1891, have revolutionised sleep apnoea treatment with their cutting-edge devices.
Learn more about the machines through this DreamStation vs ResMed AirSense 11 showdown as we highlight their unique features and benefits to determine a leader in sleep apnoea therapy.
ResMed AirSense 11: The Gold Standard in Sleep Apnea Therapy
The ResMed AirSense 11 series are highly popular and sleek automatic CPAP machines and the latest offerings by ResMed currently available in Australia. They offer an integrated heated humidifier as well as cellular and bluetooth connectivity. Known for their straightforward setup and use, these are considered the gold standard for CPAP machines.
Philips DreamStation: Veterans in Sleep Apnea Therapy
The Philips DreamStation CPAP machine is a legend in the sleep apnoea world with its modular design and mastery of the essential features that make CPAP therapy possible. It was beloved for many years before its fall from grace in 2021 when it, and a number of Philips machines, were recalled to address identified potential health risks related to the sound abatement foams in the devices.
Fortunately, the DreamStation's issues seem to have been cleared up as it is expected to be making a return to Australia in the near future.
Needless to say, the DreamStation 2 had some extremely big shoes to fill and this article aims to assist you in determining whether or not it has earned its title as the follow up to its mighty predecessor, let alone a worthy competitor to the ResMed AirSense 11.
Machine Comparison: Which CPAP Device Offers the Best User Experience?
User Interface
The Philips DreamStation features its screen on the front and is controlled by a dial which is turned and pressed to select menu items. A classic navigation mechanism at the time of its release, the DreamStation is an excellent example of function over form. It is not the fanciest experience but it just works and that is what matters most.
Philips sought to upgrade the DreamStation's navigation system by including a colour touchscreen in the DreamStation 2. However, its flawed implementation has left many wondering if it is truly an upgrade at all. The controversial decision to place the touch screen up at the top of the machine, rather than the front like most other machines, has left many users in bewilderment. After all, when lying down and looking at the machine, the touchscreen is inaccessible.
Commonly described as small, clunky, laggy and unresponsive, the DreamStation 2 touchscreen does not fare any better in its user experience, being regarded by many as a failure and especially difficult for use by those who are vision-impaired. This is only worsened by the fact that it features less options in its menu than the DreamStation.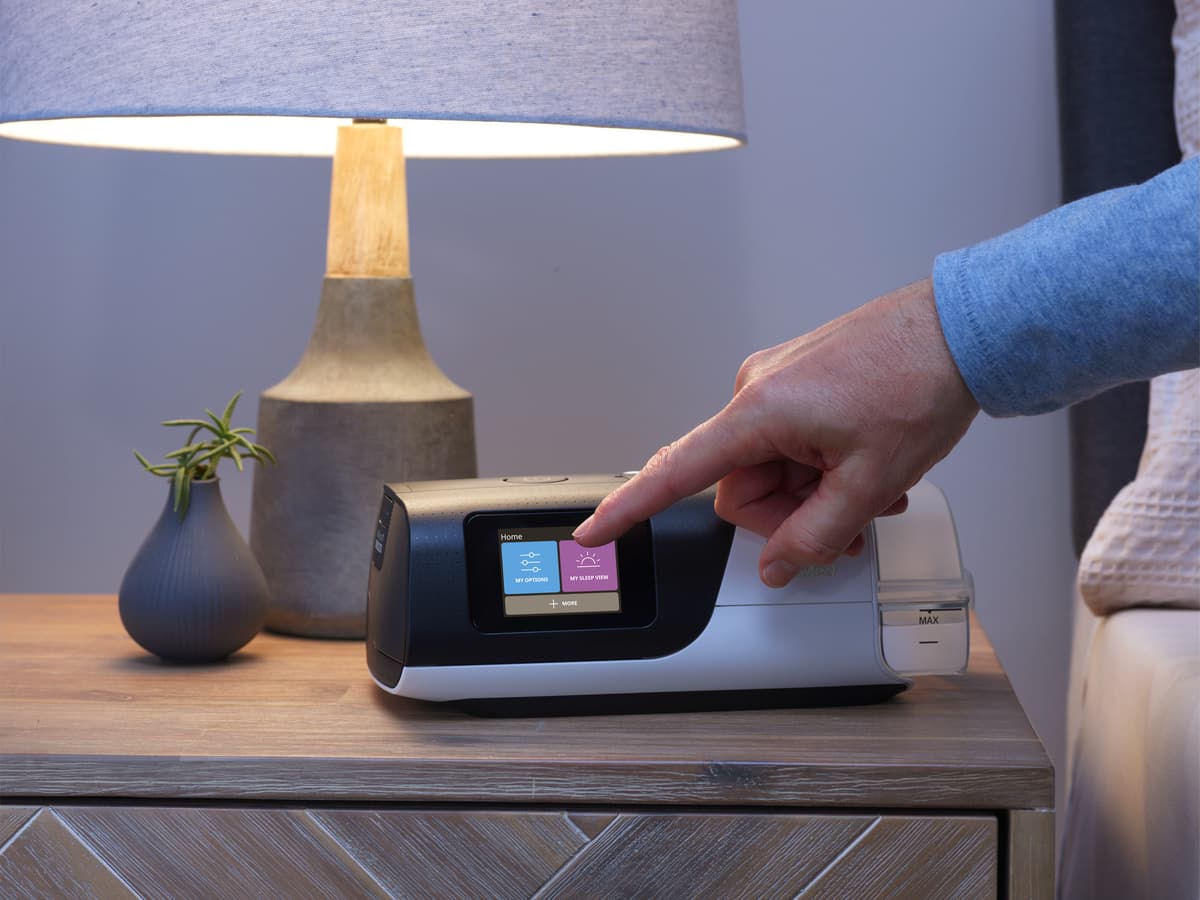 Finally, the AirSense 11 also features a colour touchscreen. It is not only larger than that on the DreamStation 2 but faster and more responsive. The AirSense 11 has clearly taken a page out of the books of smartphone manufacturers, realising that the magic of a touchscreen comes from its seamlessness and simplicity. With a fully-featured menu and more detailed sleep information than that in either of the Philips DreamStation machines, there really is no competition. We're going to have to give the win to the AirSense 11 in this category.
Category Ranking:
AirSense 11
DreamStation
DreamStation 2
Design, Build Quality, Size and Weight
The Philips DreamStation with its integrated humidifier is a 297mm x 193mm x 84mm device, weighing in at approximately 1.98kg. It has a clean, white, clinical design and its tube connects to a swivelling elbow on the top of the machine. Although it is bulkier than the other two items on the list, it is a solid, well-built device. The DreamStation comes in two halves, the main machine and the 325mL humidifier. This means that the humidifier is easily detached and the CPAP machine itself works easily without the need for anything to be inserted in place of the humidifier. Removing the humidifier brings the device down to only 157mm x 193mm x 84mm and about 800g making it an excellent choice when travelling with the machine.

The Philips DreamStation 2 has an integrated 325mL humidifier which cannot be removed and comes in overall at a size of 273.81mm x 158.5mm x 84.83mm and 1.04kg. It has a glossy black design, shying away from the clinical "medical device" style of its predecessor and its tube connects to a static elbow on the front of the machine. Overall, the DreamStation 2 is a nice looking device although, of the three machines, its build quality feels the worst and it is not quite as solid.
Although one of the biggest selling points of the DreamStation 2 is its reduced size, for most people, this is not a relevant consideration except for when travelling. However, the inability to remove the humidifier means that it is actually less portable than the DreamStation, unless you intend to travel with the humidifier.

Last, but not least, is the AirSense 11 which is 259.4mm x 138.5mm x 94.5mm and 1130g with its 380mL humidifier or 236.8mm x 138.5mm x 94.5mm and 1142g if you choose to remove the humidifier tub and replace it with a side cover. This makes the size and weight difference between the AirSense 11 and DreamStation 2 negligible, although physically the AirSense 11 is quite a bit (about 20%) smaller than the DreamStation 2 when the humidifier is replaced with the side cover.
Otherwise, the AirSense 11 combines the best of both worlds when it comes to design, as compared to the DreamStation and DreamStation 2. The AirSense 11 features a sleek, modern white design with black accents but, like the DreamStation, is very well-built and solid, with superior build quality to the DreamStation 2. Its tube connects to a static elbow on the back of the machine.

It is hard to determine a winner in this category as, depending on your priorities and preferences, this could go in any direction. The DreamStation and AirSense 11 are more durable and arguably more portable machines than the DreamStation 2, although the DreamStation 2 is the lightest option of the three for those who consider the humidifier a non-negotiable. The nicest looking device is subjective and is also up to you.
With that being said, our ranking of these three machines in this category is below.
Category Ranking:
AirSense 11
DreamStation
DreamStation 2
Noise: Which is the quietest CPAP machine?
Noise is an important factor when it comes to choosing any device that you're going to keep in your bedroom and use while you sleep, let alone a CPAP machine which you will use every night. After all, the machine is supposed to help you to have quality sleep, not make it more difficult for you and/or your partner to fall asleep!
Unfortunately, there is no direct way to determine which machine is most quiet as the noise level can vary wildly depending on the mask used, tubing used, air pressure, level of the machine and whether or not you are using the humidifier and giving you Sound Pressure Level data in decibels probably won't help you a lot in figuring out which machine is best.
What we can say is that all three machines declare themselves to be about 27dB(A) (give or take 2dB(A)) and that they all have an inoffensive noise profile. With whisper quiet CPAP therapy delivery, we can confidently say that none of the machines discussed in this article will disturb all but the most incredibly light and sensitive sleepers.
Category Tie
Reliability and Warranty
All three machines discussed in this article are premium, high-class CPAP machines, rated for 5 years' of use and come from reputable brands. Regardless of which machine you have or choose to purchase, you can rest assured that your machine is reliable and that you will be looked after.
Philips offer a 5 Year Limited Warranty to match the life expectancy of their machines. As for ResMed, they offer a 2 Year Manufacturer's Warranty which can be extended to 5 Years by signing up for sleepvantage. However, under Australian and New Zealand Consumer Laws, users of these machines can reasonably expect ResMed to cover their device for 5 Years, with or without sleepvantage, on the basis that this is the design life of the device mentioned in their documentation. This design life is an express warranty.
Consumer laws mandate that:
"You are entitled to a replacement or refund for a major failure and for compensation for any other reasonably foreseeable loss or damage. You are also entitled to have the goods repaired or replaced if the goods fail to be of acceptable quality and the failure does not amount to a major failure."
With that being said, we recommend that ResMed device owners sign up for sleepvantage to extend their warranty with ResMed and avoid the headache. We further note that at the time of publishing of this article, the Philips DreamStation 2 is not yet available in Australia so this information regarding the machine is subject to change upon its release.
We encourage our international readers to seek out their country's respective Consumer Laws or localised documentation from ResMed and Philips to learn more about their warranty entitlements.
Category Tie
Pricing
The Philips DreamStation is set to be relaunched in Australia. The expected launch price is in the range of $1000 for the Philips DreamStation Pro fixed CPAP model and $1500 for the Philips Dreamstation Auto-CPAP model.
In comparison, the ResMed AirSense 11 has just, at the time of writing, recently been launched with the best price on offer being from CPAP Online Australia. The ResMed AirSense 11 Elite Fixed CPAP can be purchased for $1499 whereas the ResMed AirSense 11 AutoSet can be purchased for $1995.
The Philips DreamStation 2 is not expected to be launched in Australia at the time of writing so there is not much to be said about its value proposition but we can compare the DreamStation and AirSense 11.
The two models of the Philips DreamStation can be had for about $500 cheaper than their respective ResMed AirSense 11 counterparts. However, the DreamStation is significantly older than the AirSense 11. The Philips DreamStation was released in late-2015 and became available in Australia in March 2016 whereas the AirSense 11 was launched in August 2021 and became available in Australia in September 2023.
It is entirely up to you to decide for yourself whether or not the extra $500 for the ResMed AirSense 11 is worthwhile investment for a newer, smaller and more fully featured device (as you will learn in the next section), especially with its exclusive mobile app features which at the time of writing are unrivalled by any other CPAP machine.
It may help you to decide if you check out our CPAP Machine Buyers' Guide which will go over the many features that CPAP machines offer and help you to choose a machine that is most suitable to you.
Welcome to the ultimate CPAP Machine Buyers' Guide. If you are looking for the best CPAP machine for you to improve your sleep and overcome sleep apnea with, you have come to the right place! Read more about selecting a CPAP Machine
Feature-by-Feature Comparison: ResMed AirSense 11 vs. Philips DreamStation vs. Philips DreamStation 2
As much as ease of use and design considerations are important considerations when choosing between these machines, it is pretty safe to say that nothing matters more than its features and functionality.
The below table lists all of the features that come with the Auto-CPAP versions of these machines so those who use Fixed-Pressure models should check the specifications of their specific machine to see what is and isn't included.
Device Features Compared
Device Feature
ResMed AirSense 11
Philips DreamStation
Philips DreamStation 2
Modes of Operation
Fixed CPAP, AutoSet Algorithm, AutoSet for Her Algorithm
Fixed CPAP, Auto CPAP
Fixed CPAP, Auto CPAP
Software Updates
OTA (Over-the-air Software Updates)
Yes, via SD Card
Yes, via SD Card
SD Card Data Encryption
Unencrypted (can be used with OSCAR and other analysis software)
Unencrypted (can be used with OSCAR and other analysis software)
Encrypted (can not be used with OSCAR and other analysis software)
Humidification
380 ml heated humidifier
Can be removed from the machine, easy to clean and refill
Heated Humidification Tube available and can be preheated
325 ml heated humidifier
Opens with a hinge mechanism and is easily detached
Heated Humidification Tube available and can be preheated
325 ml heated humidifier
Cannot be removed from the machine, water tub is prone to leakage and is difficult to use
Heated Humidification Tube available and can be preheated
Auto Start and Stop
Yes
Yes
Yes
AutoRamp
Yes. Increases from a low pressure to prescribed pressure using time increments or Auto setting.
Yes. Can be set to ramp either via a time setting or via Smart Ramp which activates when an apnoea event is detected.
Yes. Same as DreamStation but also includes Ramp Plus which delivers a constant pressure until there is an event, which then activates the auto algorithm.
Expiratory Relief
Yes (EPR)
Yes (C-Flex)
Yes (C-Flex)
Inhalation Relief
No
Yes (A-Flex)
Reads breathing pattern and reduces pressure at the end inhalation. Includes Expiratory Relief.
Yes (A-Flex)
Reads breathing pattern and reduces pressure at the end inhalation.Includes Expiratory Relief.
Mask Fit
Mask Fit Guidance provided via myAir app
No. Only tracks mask leakage data.
No. Only tracks mask leakage data.
Mobile App
myAir App
DreamMapper
DreamMapper
Bluetooth Blood Oximetry Feature
Yes
No
Yes
Care Check-In
Yes
No
No
Mobile App Features Compared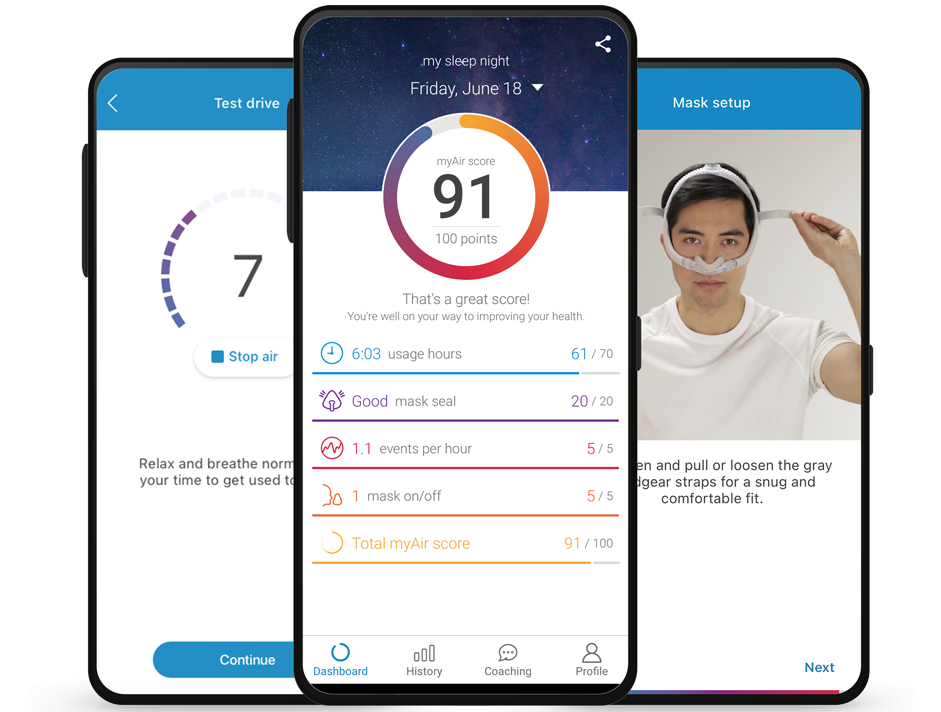 | | | |
| --- | --- | --- |
| Mobile App Feature | myAir App | DreamMapper App |
| Therapy Data Display | Yes | Yes |
| Troubleshooting Guides | Yes | Yes |
| Personal Therapy Assistant | Yes | No |
| Test Drive | Yes | No |
| Mask Fit Guidance | The myAir app provides troubleshooting tips to assist you to set up your mask to ensure a proper fit and no leakage during Test Drive | No |
| Sleep Quality Scoring | Yes | No |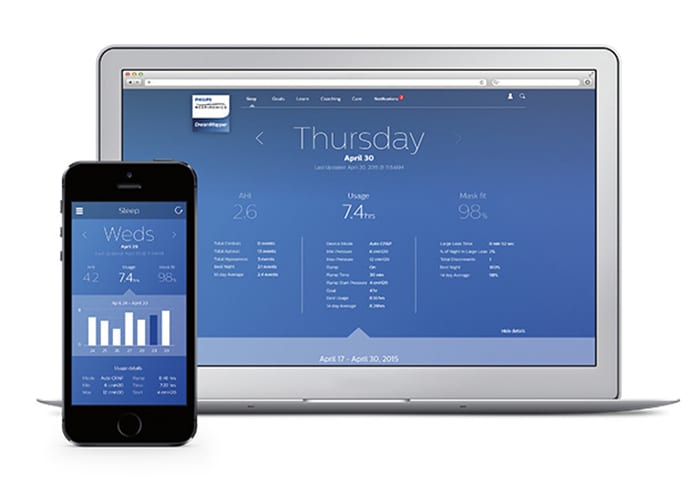 Summary
At the end of the day, all three of these machines are premium CPAP machines and are going to provide users with effective CPAP therapy regardless of their choice; although the Philips Respironics automatic algorithm is regarded as less effective than the ResMed AutoSet algorithm, according to a 2016 study.
The machines stack up quite strongly against one another as far as features are concerned, although the AirSense 11's connectivity features including Over-the-air Software Updates and its excellent myAir app features give it the edge as far as we are concerned.
Category Ranking:
AirSense 11
DreamStation 2
DreamStation
Philips' 2021 Recall: A Crucial Factor in Decision Making
In 2021, a significant announcement from Philips reverberated throughout the sleep therapy community. The company initiated a global recall on select respiratory care devices, prominently featuring the DreamStation range.
Key Highlights of the Phillips Recall:
Primary Concern: The central issue revolved around the sound abatement foam employed in these devices. Over time, degradation of this foam could occur, leading to potential health risks for users.
Reported Symptoms: Users reported experiencing headaches, irritation in the upper airways, and a sensation of chest pressure. These symptoms raised alarms, prompting the recall.
Why It Matters: This recall is pivotal, especially for those considering buying the DreamStation DreamStation 2. It underscores the importance of evaluating the device's features and being apprised of its historical and safety contexts.
For a detailed overview of the recall, especially if you own a Philips device, click here to learn more.
The Final Verdict: ResMed AirSense 11 vs DreamStation for CPAP Therapy?
The ResMed AirSense 11 and the Philips DreamStation machines both offer state-of-the-art features tailored to enhance the sleep therapy experience and you cannot go wrong with any of these machines as they are all effective medical devices designed to treat sleep apnoea.
Which device is best? Is the Philips DreamStation 2 a worthy successor to the DreamStation? Which features are the most important? Unfortunately, we cannot simply answer these questions for you.
It's essential to remember that the best choice is subjective and varies based on individual needs and the choice will always be up to you. We encourage you to consult with a sleep therapist or doctor before making a decision.
While the DreamStation name stands strong and Philips is certainly a strong rival and competitor to ResMed in the CPAP space, the AirSense 11 never failed to impress us as an overall package and has to be our recommendation for most users. It truly is an exceptional device.
For more information about what CPAP machines have to offer and what may be best for you, consider checking out our CPAP Machine Buyers' Guide.
Disclaimer: This comparison aims to provide insights based on available information. The final choice of a CPAP machine should be based on individual needs and in consultation with a healthcare professional.